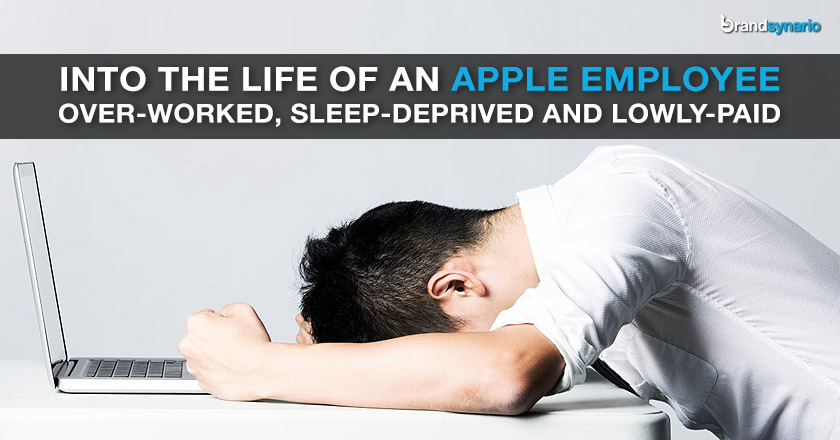 By Zulfiqar Ali Sajwani
While going through the last days of your graduation you are all geared up to look for lucrative opportunities that would give a kickstart to your professional life.
There is a short list of potential employers of choice, which are 'so called' excellent paymasters and injectors of career growth. One of the names that hold its position steady in the list is the leader of innovation 'Apple'
Through its outstanding market positioning and impeccable branding, Apple Inc. is one company that every young graduate looks forward to joining.
However, as they correctly say, 'You need to put your feet in the water to realize its temperature'. We cannot rely on the paparazzi that circulate in the market.
To give all young graduates a wake up call, here is an inside information from some of the employees working at 'Apple'. To much astonishment, the reality is far-fetched from what dwells in the fantasy land of Cupertino.
Working at Apple is a deal that involves heaps of tolerance, perseverance and sacrifice, all directed towards yourself-destruction.
To paint a picture, following are the realities that you would have to live with if you plan to pursue your career at Apple.
1. Get ready to be sleep deprived
Apple is known for its strenuous work hours; you cannot expect to continue enjoying your circadian rhythm. The job demands you to be on toes 24/7 and therefore, you would have to bid farewell to your sleep.
2. Learn to bow down against the corporate hand

The multi-nationality of Apple leads to local employees feeling operationalized by the corporate hand. There is a series of 'can't dos' for the local management, which makes them feel impaired at times.
"There is a fairly heavy corporate controlling hand governing a lot of what Apple locally can / can't 'do' as a business. That made for a fair degree of tension with some senior staff coming in from other parts of the technology industry." Said Richard Francis, an employee of Intel who worked with Apple when the companies came together for a project.
3. No talk, only work

Apple is known for the 'closed cubicle' culture, where every employee is expected to mind his own business and ensure confidentiality.
Therefore, there is no room for talking your heart out at the workplace. The structure of the office is designed in such a way that you are not distracted from your work.
You are given a huge office so that you can befriend the workplace rather than the people.
"Having my own (needlessly huge) office meant that I could literally go an entire day without talking to anyone else. This has upsides (I had the longest periods of intense concentration I've ever had in my life) and downsides (it got quite lonely)" said Owen Yamuachi, a former intern at Apple.
4. Satisfy yourself with the fame, rather than the bucks

Being an employer of choice, Apple makes an advantage of the reputation of learning it holds, by paying meagerly to its employees. Therefore, the employees have to get satisfied with whatever they get as a salary
"Low salaries were a particularly common complaint from Apple employees on Glassdoor, primarily from those who identified as working in Apple's retail stores, but also from business specialists, IT professionals and others at the company" said one of the commenters at Glassdoor.
5. Don't Dare to let the cat out of the bag
Apple is famous for the culture of secrecy that dwells at the workplace. Where as the business analysts regard this competence as a strength for the company at large, this decays the employees' relationship with the family members.
"I couldn't tell my wife anything; she knew I was working in a different building across the street and pulling very late nights, but she didn't know what" said Robert Bowdidge, a former employee at Apple.
6. Do not expect change

Although Apple is an experts in innovation with reference to products and services, the management frowns upon any change in processes that is initiated by entry-level managers. The processes follow the self-created tradition of Apple, and are expected to sustain its life.
"Culture here is strictly top down: any attempt to streamline, impact change, or even discuss a better way to do anything is strictly frowned upon when it comes from the bottom,"  said an anonymous former employee of Apple.
7. You may be handcuffed to your product

Many employees at Apple are afraid of getting the responsibility to manage the entry of a new product. They are expected to eat, drink and sleep the product, and most of all, ensure that the product secret does not get out in the market.
"The criteria was that we had to have a room with no windows. They changed the locks on the door." said an iPad developer.
Get ready to make a radical tradeoff if you dream of putting the name of Apple on your resume.