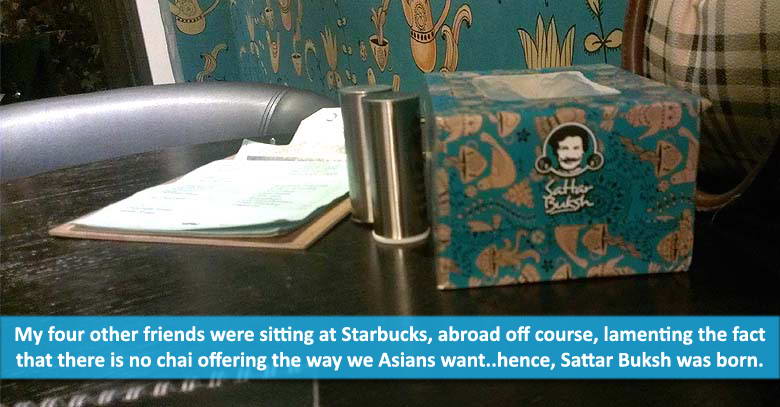 By Ufaq Ashfaque
With the growing buzz about the new café in Karachi, Sattar Buksh is successfully making its presence felt in the city of lights. The outlet came forward with a twist – with its catchy name, desi appeal and an appetizing menu.
We got a chance to talk to the eccentric Sattar Buksh; to know his perspective and how he went about his journey to provide a unique eatery to the people of Karachi.
Why did you name it after yourself?
My four other friends were sitting at Starbucks, abroad off course, lamenting the fact that there is no chai offering the way we Asians want it being served at such a prestigious brand. The discussion ranged from the potential urban Pakistanis have for a diverse range of food and cuisines, to current outlets and brands serving outstanding quality hot and cold beverages, especially coffee, tea and their variants. But we realized that no platform was offering both tea and coffee under one roof. Hence, Sattar Buksh was born – again – as an outlet that offered desi cuisine and other delectable that appealed to the urban desi palette.
Logo – What's in the 'Mario' Moustache?
It's MY mooch! Why are you Pakistani kids always influenced by Western-infused idols? Mario is not even a person!
Anyway…to tell you more frankly, my partners and I have zero restaurateuring experience, but we all belong to the advertising business. We realized that my moustache, along with my name, will create a personality of the restaurant, which, despite having respect for a number of leading brands and restaurants in Karachi, we found lacking. It's usually the association and product offering that keeps you going back. Sattar Buksh, the name, on the other hand has a strong recollection for Pakistanis, particularly in Sindh, that people have built an instant association with it.
By the way, Mario is Japanese!
Where do you get your stuff from?
We began searching for suppliers that would provide us with original coffees and blended tea categories. Our search expanded everywhere, skimming all stockists, suppliers and providers from root to tip, for the most affordable and more-for-less value proposition. The search went up to Brazil, but did not go as planned. Finally, it turned out to be someone in Quetta who is doing the provisioning for us for all ingredients angraizi..
Take on the menu – Desi, yet English
Sattar Buksh, believes in giving the best of both worlds. Sattar Buksh menu offers genuine selections, combined to give an authentic, yet satisfying experience. Many question my offerings, for instance the bun kababs that I offer have papads and chutney as sidelines. The reason is simple: If its bun kabab you want, it is bun kabab you get – no compromise on our desiness. Similarly, we have Shikanjabeen and imli-aloo bukhara drinks as well as designer drinks, our very Pakistani chai as well as coffee blends and flavored tea, paninis as well as hathora-maar beef strips which I've created through my own recipe, and sheesha for my shehri-desi naujawan patrons.
Sattar Buksh vs. Starbucks: Sibling Rivalry?
I put my mustached face on the logo as an intended pun, which turned into a viral controversy. Tongues are wagging, as they do wag, about us copying Starbucks. I really wish such people put some sense of humor into their lives for a change.
Starbucks accused us of violating their brand representation, 'stealing' their logo and their menu. I really do not believe that Starbucks, the colossal brand that it is, should be threatened that I am, in any way, stealing their corporate identity. In fact, let me tell you what really happened.
Starbucks sent a 4-page document, quoting clauses regarding violations and corresponding notices that we have to serve on legal grounds. I did not believe that whatever happens on the internet can actually persuade international players like Starbucks into believing that some small brand is violating their identity.
I responded by highlighting reasons that have led us to create this restaurant and the identity we devised for it. To give you some insight, I highlighted to Starbucks their origins and how recent they are – established only in 1971. While, my name – Sattar Buksh, has existed since at least a thousand years before in this part of the world. If customers of Starbucks can be fooled into going into an eatery that does not have a mermaid, but a man with a moustache, thinking its Starbucks, the respectful coffee giant can keep such customers and their loyalty to themselves – with all due respect.
My restaurant caters to an urban desi palette and I own every article on the menu, as I have created it myself, with my own flavorful twist to it. None of it has been taken from what Starbucks offers, even if there is similarity it's because of the universal availability of certain items like pizza or paninis etc.
Also, my specialty is tea, amongst other things. Starbucks on the other hand, has just one tea-based offering, called 'tea latte', which is solely catering to the Western audience. Now tell me, how can such a chain own tea? And how can I be copying them with such variety to offer?