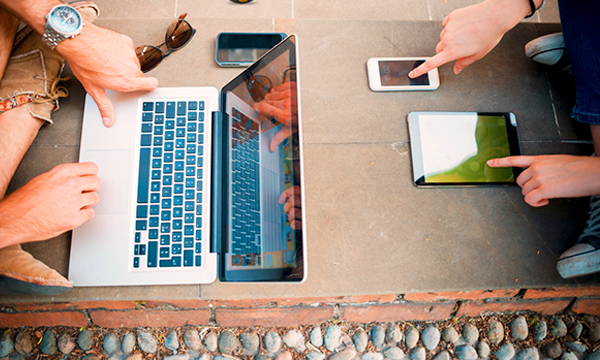 It has been observed that websites have low Click Through Rates in their advertisements, but the traffic is increasing day by day, now what's probably the problem.
Why aren't the clients getting clicks as per their expectation?  An average Click Through Rate on a website is usually 0.25% – 0.30% which is now getting low.
What could be the reason? It could be that ads are not getting enough attention of the customers or the ad placement incorrect right or many  ads aren't relevant for the audience of the respective site.
In all the aforementioned questions we're forgetting the new behavior of the visitors i.e users are visiting websites through their cellphones or tablets?
So what if users visiting through their smartphones or tablets?
Aren't ads visible to users or we don't have mobile size ads?
As we all know, as users change their devices / OS to visit websites, publishers also change their strategy and their layout.
Now publishers convert their website to responsive / mobile optimized websites.
So the users can get the content which they're looking for on their appropriate devices.
On mobile devices, ads look very clear and optimize that user can't ignore (if the user didn't scroll fast).
There are some websites that have its CTR in a stable position.
These websites have 30% – 40% mobile users right now but the users are growing day by day.
Most of this website are news and financial category while fashion, entertainment, foods and other categories are getting more than 60% mobile users and facing low CTR problems.
It also proves that in Pakistan mature users use their desktop / laptops while the youth of our nation uses the internet through their smartphones or tablets.
The benefit of the desktop is that the user can see 2-4 ads in one view but on the mobile they can see only 1 ad on the screen so the visitors have multiple choice in desktop but not in the mobile case. Users are very comfortable to open multiple tabs on the desktop but in mobile the behavior of the same user goes change and they open only those tab which they really want to open, not to forget that the mobile experience is also dependent on the cell phone processor.
There're some factors that users can see ads clear on their mobile phone screens but don't click as compared to the desktop view. It is a possibility that users ignore ads because it has been already watched on tv, print or OOH or user has no interest.
As brands don't get better CTR so web ads are not going to be the right place? If users are clicking when they really want to, that means they're loyal with the respective ads and acquisition rate would getting much better.
If you have 100 users on your landing page by getting 100 clicks through web ads then acquisition would be 1 or 3 but in this scenario, acquisition goes 10 – 15 or more because when user tap to ads that means they really wanted to know more.
If you landing page is your fan page, that would probably count in a better engagement rate as compared to the previous campaign because when you are getting more users on your page, but they don't engage with your page that makes your page reach low but whoever comes and gets involved with your page then your fan page reach gets better.
I hope agencies / clients will figure out this in future. We've to add call-to-action button on our ads so we can travel to our content for retaining that visitor.
So CTR is getting low but the user journey would be loyal and will involve / engage with the brand more. I'll discuss in my next article, how agencies / client to get more CTR on websites and how the digital marketing changes with the user behavior.
Contributed by: Wajid Ali Khan, Manager Web Sales for Hum Network Ltd.