Hafiz Yasir Soharwardi, known for his viral nasheeds, including "Confirm Jannati Hai," has been in the news again. The Naatkhwaan, who is often controversial for his unorthodox ways of recitation, is in the news for his latest kalaam, "Main Bhi Shaadi Karunga".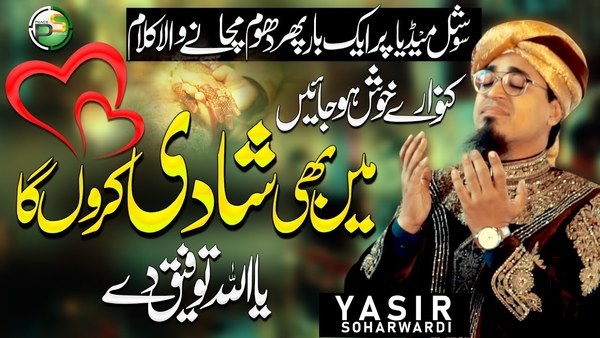 Yasir Soharwardi – Main Bhi Shaadi Karunga – An Anthem For Singles
The Kalaam titled "Main Bhi Shaadi Karunga" By Hafiz Yasir Soharwardi was released just a few days before Valentine's day, a day that is known for its red roses, balloons, and gifts amongst couples. In the video, which was released alongside the Kalaam, Yasir Soharwardi can be seen in a sherwani dressed as a South Asian groom, roaming inside a banquet hall with wedding decorations.
While the bride herself was mostly absent, the video alongside its recitation was more of a cry-for-help by Yasir Soharwardi, who is yet to find his soulmate, judging by the content he has released.
The main chorus of the Kalaam comprises Yasir Soharwardi featuring him praying to Allah and asking him for resources to get married. Whether or not the resources he was praying for are more materialistic things or not, or it was a search for a righteous spouse, was not made clear.
Internet Reacts To "Main Bhi Shaadi Karunga"
Soon after, the anthem went viral as its release was way too near Valentine's day.
sent mein bhi shaadi karunga to my mum & she sent me a 👍 idek what that means watch me return from shift to a potential sitting in my living room

— ⚔️ (@drunkonairr) February 13, 2021
And this man in the neighborhood is playing "mn bhi shadi kronga,Ya Allah taufeeq de",on repeat 😑

— جی ایم (@GM_PARHBETHA_G) February 13, 2021
Even though there were many negative comments too, the naat khwaan who has had the experience of internet fame due to his "Confirm Jannati Hai" was probably used to it. He has also released a Behind-The-Scenes video on his Youtube, where he shares all his Vlogs and raw footage.
Yasir has been in the news in the past, too, for his unorthodox way of reciting Kalaams. He has been criticized, but it has been observed that his work brings smiles to the faces of those who are having a tough time.
While the internet is full of sad news and controversies, Yasir Soharwardi's content has brought a smile to our faces and has given everyone loads of content to make all the memes about being single this Valentine's day. His previous release, "Confirm Jannati," also got many reactions from the Pakistani public.
What do you think about "Main Bhi Shaadi Karunga" by Yasir Soharwardi? Let us know under the comments below.
Follow Brandsynario for more news & updates.