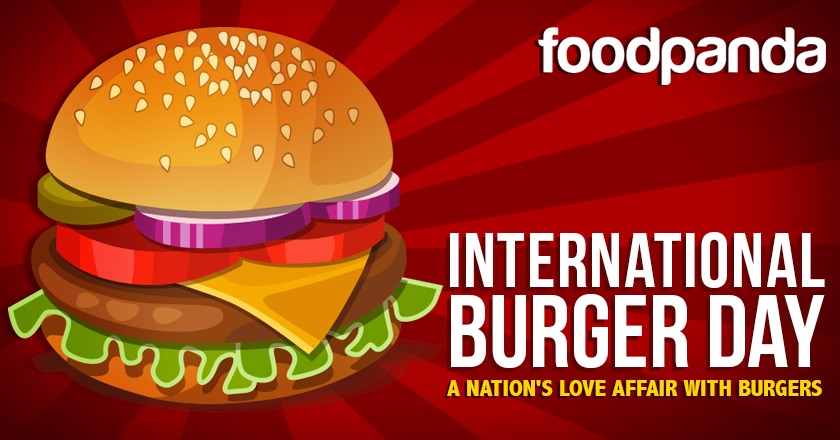 The online food delivery platform, foodpanda.pk, is joining the global festivity of the International Burger Day, which is celebrated every year on 28th May. To acknowledge the nation's love for burgers, foodpanda conducted a survey of the types of burgers people love to eat all over Pakistan.
The love affair between Pakistanis and Burger started with Shami Kebab. Subsequently, variants of Shami Kebab burger were introduced, which included eggs, daal (lentils) and sabzi (vegetables). For a nation that thrives on spicy foods, chutneys (sauces) made from ingredients such as tamarind, coriander and plum were later added to the flavor of the dish.
Ever since the influx of international fast food restaurants e.g. KFC in the nineties, the current landscape is flourishing with many popular burger joints such as Big Thick Burgerz and Mr.Burger to name a few.
According to foodpanda's research, here are the top 5 most preferred burger types among Pakistanis:
1. Fillet burgers
2. Grilled chicken burgers
3. Jalapeno burgers
4. Zinger burgers
5. Beef & cheese burgers
Being the global symbol of fast food, burgers are famous in many other countries around the world; but every nation has its own adaptation, for instance, Australians including eggs in their burgers, Chinese prefer fish burgers over other types of burgers, Argentinian burgers are boiled and always served with eggs, Afghani burgers are served as naans with ground lamb patties and the Japanese like their burgers without the bun.
foodpanda.pk has proposed the following celebration ritual for burger lovers all over the country:
1. Wear your finest clothing that says "burger"
2. Log on to foodpanda.pk and order from your favorite burger joint
3. Watch your favorite food related movie
4. Share the love with family & friends
foodpanda is Pakistan's leading online food delivery marketplace. foodpanda offers a convenient platform to order food online from the widest gastronomic range through its website or mobile app. With 400+ local and international food chains onboard, foodpanda.pk currently offers its services in Karachi, Islamabad, Lahore and Rawalpindi. foodpanda, together with its affiliated brand hellofood, is active in more than 40 countries on five continents.
foodpanda processes thousands of burger orders online every month. Some of the popular restaurants include KFC, Mr. Burger, Big Thick Burgerz, Obeez Burgers, Tooso, and Red Apple. To learn more about foodpanda – Click here