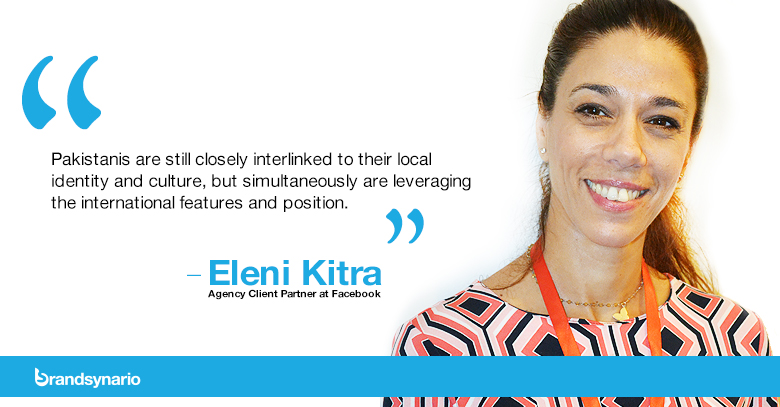 While attending PAS Digit 2.0 our team got an exclusive opportunity to interview Eleni Kitra, Agency Client Partner-Facebook. 
Eleni has been working for the last 23 years in various positions for advertisers, publishers and agencies. She has been associated with Facebook for the last seven months where she is responsible for the entire Middle East and Africa and Pakistani market.
Let's hear it from Elini herself: 
 Q1: How do you find Pakistan as a country?
I think it's great!  When we decided to visit this market, I proposed myself to come here.  I must say that there was a time when I was a little bit conscious because people were pushing me not to go but, the moment I stood on Pakistani ground, I felt very comfortable. Pakistanis have a natural way of meeting people in a nice way, forgetting about other things altogether.
Q2: How do you find the Pakistani market in terms of customer behavior, lifestyle and overall market dynamics?
It's a very big market, when it comes to the size of the country.  It's humungous and it keeps growing more and more.  You are still closely interlinked to your local identity and culture, but at the same time you are leveraging your international features. There are so many big companies contributing here that you cannot avoid to be in the trends that really redefines and reforms the whole world.
 Q3: Pakistan is one of the fastest growing countries on Facebook with a population of over 10 million. In your opinion, what are the reasons for this growth?
People always want to share and Facebook is the platform to do that because Facebook can bring all the people that matter to each other, in both personal relationships and brands.  We want to share for the same reasons we have wanted to share a thousand years ago.
The top brands like Nokia, Samsung and Intel started advertising on Facebook and other digital media platforms.  What pattern do you see as far as spending is concerned, particularly in Pakistani market?
What happens in Pakistan is something that happens all around the world, but in a different lifecycle.  . Marketers should understand the power of Facebook to drive business.  They can choose Facebook as their number one brand building platform.  In this way, brands can be where their customers are – together – in the same region, in the same mood, in the same context.  They need to be creative in engaging digital real estate and they need to do real targets.  They need to target their audience in a way that is best for them.
In this way, even if you are Nokia, Samsung, P&G or even a very small business, you can do exactly what you can in order to derive results and learn in the best way.
Q4: 70% of the Pakistani population is youngsters.  The age bracket is around 15-30. What about the other age groups, what would you suggest to companies, in order to cater other age groups of people apart from this target segment?
Looking into the audience data I found out there are 2 million people in Pakistan on Facebook who are  30+.  Its two million people from an entire fan base of eleven million people.  These two million people are definitely very important for some of the brands.  They need to take into account that almost 70% of 30+ Facebook audience in Pakistan is in Karachi, Lahore and Islamabad. I could never think any brand wouldn't be interested in two million people in these three cities.  For me, I don't believe this is an issue.
Q5: Facebook is more than a social network in Pakistan. People have started their online businesses, showcasing their products and their brands. Are there any other countries that have high concentration of Facebook usage for business development?
Facebook is a platform that helps you deliver business results.  Our product Facebook for business helps businesses regardless of their size.  The main thing is to bring the people who matter close to their brand.  This way, it is not about Pakistan or other countries; it is about what is happening around the world.  We all have the same goals, so yes, it is for business, it is for PR and it is to make brand awareness.  It is to bring all the people closer to us and love the brands we advertise.
 Q6: Can you identify the top spending brands on Facebook with regards to the Pakistani market?
From what I have seen in my visit, all the big clients are here all of them are constructively spending on Facebook. It might not be up to the extent as they are spending around the world, but I see the shift this year.  From what I have heard from all the people in the market, this is going to double or triple next year and I am looking very much into that.
 Q7: Can you tell us some of the best practices that are vital for increasing engagement for their pages?
I think the best practices would be something out of the box, considering the main objective of this would be authentic and committed to what you do. I would say brands should  think big because sometime we think very small and we start with a page that is not so important, netiher it has the content or the mood to be the exact page for which the people are addressing.  And, always have  a goal to reach: do not start building a page that has no goal exactly.  Choose your voice; this would help you align your brand purpose.  The brand purpose revolves around your entire communication.  Develop a unique and consistent brand voice and finally create engaging content, the only way to keep the people with you – to influence them and persuade them to do the final action which is to buy your product from the shop.
 Q8: Any suggestions that you would like to share with local and global brands in Pakistan
Probably they shall have more suggestions for me! The only thing that I would like to say and this is something that I strong believe in is that it is not about only social media, it is about marketing in a social world.  As long we keep that in our mind, we will consider Facebook as a marketing tool in a social world.