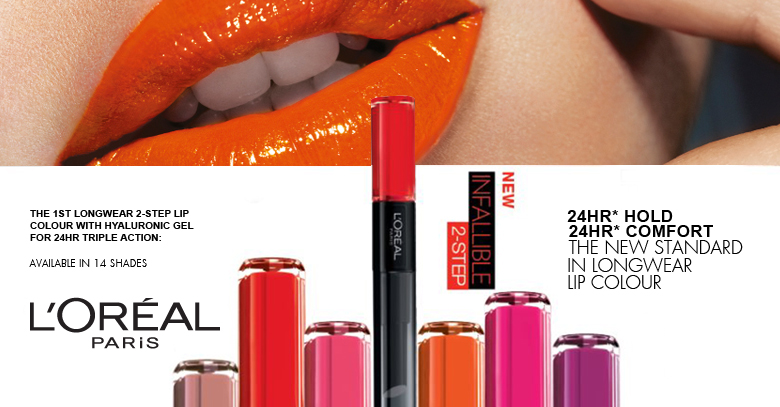 By Anum Saeed
The world's leading beauty brand L'Oreal extended their Infallible range with the release of its Infallible 2-step Lipstick.
The brand offers a long-lasting lip colour that claims to be a breakthrough among the category. L'Oreal promises to stay put for hours without disappearing and works miracles, comparatively to those products that need repetitive application all day long.
L'Oreal offers a lasting solution to all women with its super long-lasting formulas.
The new infallible 2-step Long-wear Lipstick is the first one to be introduced by L'Oreal with hyaluronic gel. The product has three lip-luscious actions including all day color smoothness leaving lips moisturized, day long hydration for endless comfort and all day color-resistant elements that doesn't let your color fade in a super easy way.
The double-ended product is designed in a way that it has a liquid color at one end and a balm at the other, giving a 24 hour comfort and color. The first step is the application of liquid color, which allows the lips to relax and not crack, followed by the application of the balm over the top. The color gives a slight sticky feeling for about 30 seconds, and then dries to a soft, shiny touch, giving a perfectly finished look.
L'Oreal Infallible 2-Step Lipstick is available in 14 shades with the cost of RRP $29.99. The product needs steady application and a degree of commitment for a lasting satisfaction.