20th May 2020: After a problematic lock-down, Indus Motor Company and Honda Atlas have announced to resume operations in Pakistan.
Both companies had announced a complete shutdown of all plants and dealerships across the nation to comply with the government's lock-down orders.
Moreover, both auto manufacturers have written a letter to the Pakistan Stock Exchange to inform their plans to restart their operations under the Section 96 and 131 of the Securities Act 2015 and Clause 5.6.1 (a) of PSX Regulations.
The letter submitted by Indus Motor Company reads:
"With reference to our earlier disclosure of material information dated 27th March 2020, relating to the temporary suspension of plant operations of the company due to outbreak of the COVID-19 in the country. The management of the company according to relaxation/ approval given by the Sindh Government has decided to resume plant operations and its offices with adequate measures aimed at preventing the pandemic's spread"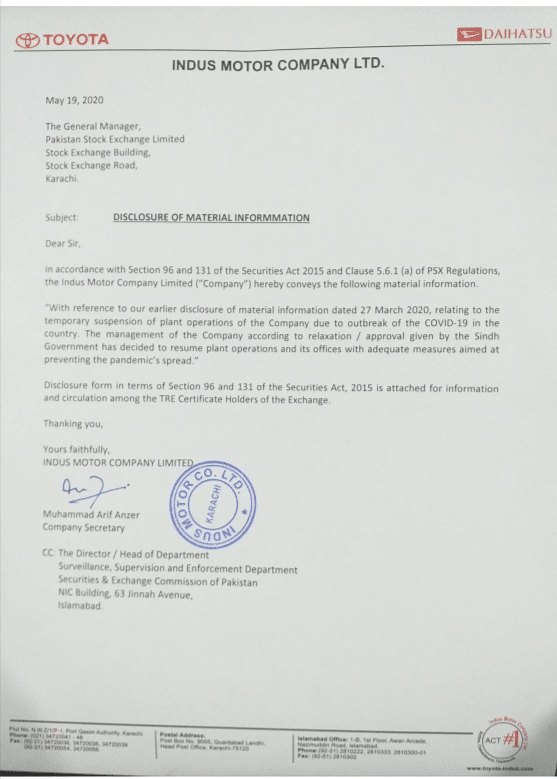 The letter submitted by Atlas Honda reads that the auto giant will start operations from today (20th May) after taking all the needed precautions to keep safe from the novel coronavirus.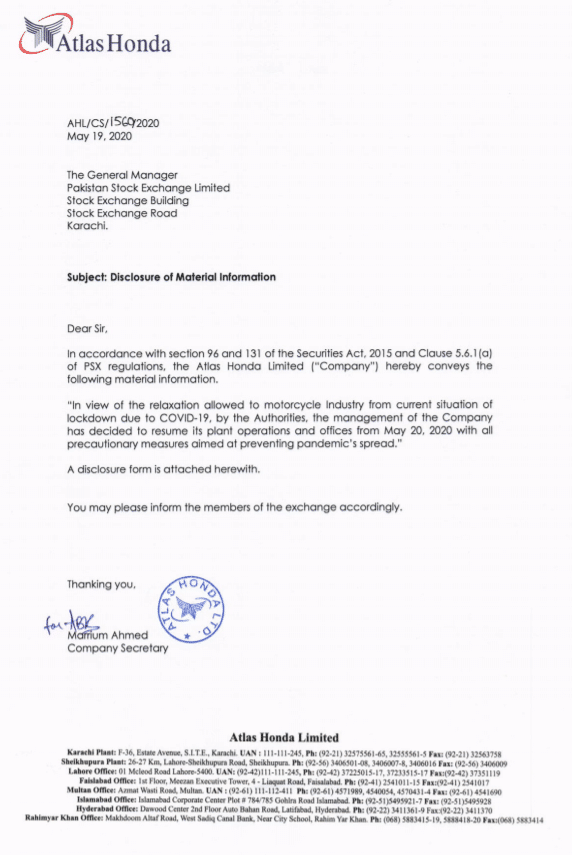 Do you think reopening the plants will help bring the industry back on track? Share your thoughts with us in the comments below.
---
---

28th April 2020: After Toyota Pakistan announced it is shutting down its plants across the nation to comply with the government's orders, Honda Atlas has also announced the same.
Honda Atlas Cars (Pakistan) Limited issued a public notice to announce that the Japanese manufacturer will shut down its manufacturing plant for an indefinite period.
The notice also reads that because of the current situation in light of the pandemic; there will be a delay in deliveries and production schedules.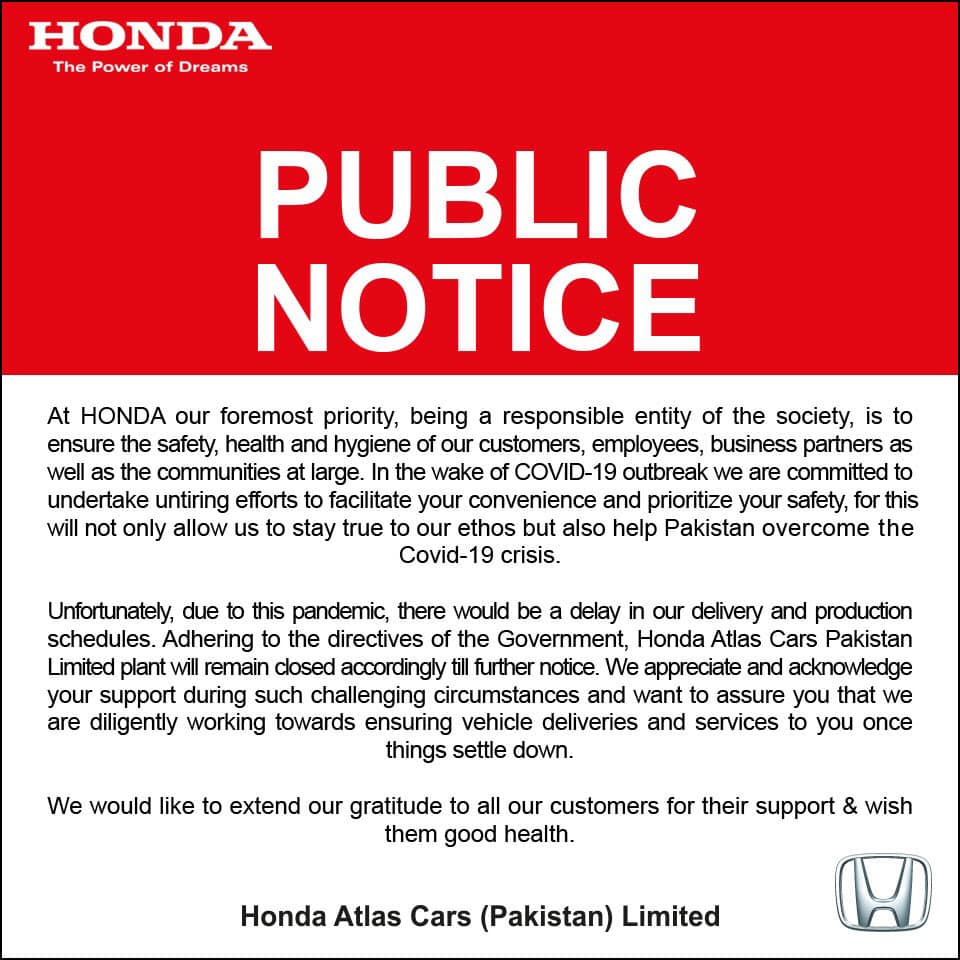 Other automotive giants who have shut down their plants include:
Pak Suzuki Motor Company (PSMC)
Toyota Pakistan
Al-Haj FAW Motors
JW Forland
Master Motors
Hyundai Nishat Motor
KIA Motors
Regal Automobiles
United Auto Industries
Car Manufacturers Alter Logo to Show Importance of Social Distancing!
---
Indus Motors Company (IMC) has decided to shut down all productions for the remaining days of September.
An IMC official shared that the company had already observed eight non-production days (NPD) in July and 11-12 in August.
He further shared that due to the federal excise duty (FED) of 2.5-7.5 percent, plus the instability of the Rupee against the Dollar has added to a slump in sales and an increase in price.
Meanwhile, sources have also shared that IMC has an inventory of 3,000 units still unsold and that the plant is running at a capacity of 50 units only for September.
A Toyota vendor confirmed Dawn news that the news was authentic and that the company is shutting down all production plants for the remaining month.
IMC observed a drop in sales from  8,804 and 8,770 units to 5,308 and 3,708 units in July and August. A drastic fall in sales was recorded for the Toyota Hilux, which plunged from 793 to 716 units and from 1,383 and units 1,292 units. Fortuner also witnessed a drastic dip.
Stay tuned to Brandsynario for more news and updates.