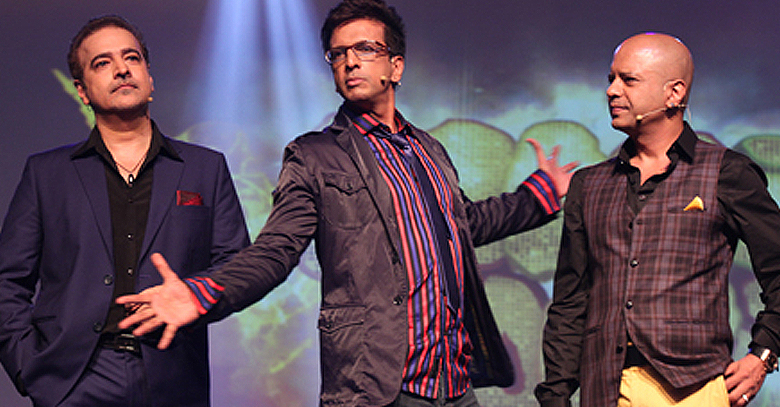 Unleashing a fresh new legacy, Sony Entertainment Television is bringing back India's oldest and longest running reality dance show "Boogie Woogie"
Boogie Woogie had ruled the entertainment industry for 17 years and now after a three year long absence returns to dance lovers in all its glory with its seventh season. Sixteen young dancing sensations from all over the country, of ages six to fourteen will set the floor on fire to battle for the Kid's Champion Title.
The popular trio of the show; Jawed Jaffery, Naved Jaffery and Ravi Behl will also return in their roles as judges while Sargun Mehta and 12-year old Rakshit Wahi will be the hosts.
"Kids are most lovable, dynamic and innocent. They are the best way to begin a talent show. Later on we might come up with mothers on the show, men and women groups," said Jawed Jaffrey.
However, the format of the program has been tweaked to add more excitement and thrill. The public will not have the right to vote on any of the dance performances. The scores and elimination will be decided as per the judge's verdict on the performances.
"It's amazing to know that the audience follows the show and love the contestants but the decision of eliminating any dancer from the competition should be solely based on dance and that's what we want to do," commented the judge and producer of the show, Naved Jafri .
The episodes of the Boogie Woogie's former season were spreaded over a week of performances by a group of participants. The winner was announced at the end of each week.
However the new season will enable participants to flaunt their talent and compete with each other over a period of three months, with each Sunday marking the elimination of one contestant.
The prize money of Rs. 10 lakh along with the coveted Boogie Woogie Kids Champion Trophy will be entitled to the winner.
In times when entertainment channels are cluttered  with reality dance shows, Boogie Woogie tends to retain its name by delivering quality content to its fans.
"We are concerned about TRPs; they are important for any show. We want to bring TRPs but through purity. We want to give a quality product by getting the best out of the contestants. If we do all this, success will follow," commented Jaffrey
Do you think Boogie Woogie will survive the cut-throat competition of dance programs in India?