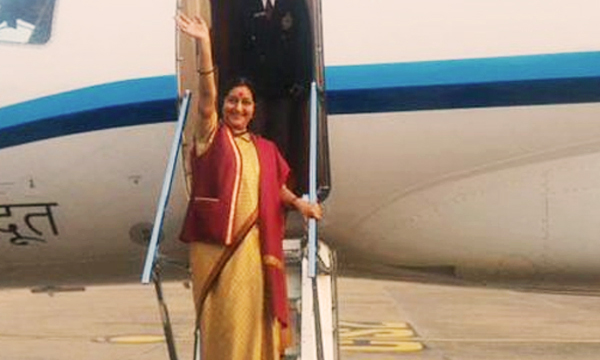 The Indian Foreign Minister Sushma Swaraj reached Islamabad on Tuesday to attend the ongoing Heart of Asia conference, reported by ARY News.
Senior officials of Pakistan's Foreign Ministry warmly welcomed India's External Affairs Minister, Sushma Swaraj upon her arrival to the country.
Swaraj spoke to media upon the occasion and declared that she has arrived with a message of love and peace from India. Swaraj said at the airport, starting her visit that would last less than 24 hours; "I have come with the message that ties between the two countries should be good and move forward".
[dailymotion id="x3hce6g"]
The Indian official says that she will be meeting Prime Minister Nawaz Sharif and Sartaj Aziz upon her visit to discuss the strategies which promote bilateral relations between the two countries.
Read more: Indian Schools Show Respect to #PeshawarAttack
Pakistan is hosting the Fifth Heart of Asia- Istanbul Process Ministerial Conference on December 9th (today) in Islamabad, preceded by a meeting of Senior Officials.
EAM Sushma Swaraj in Islamabad (Pakistan), speaks on the message she has come with to Pakistan.https://t.co/8CR8IL7RWj

— ANI (@ANI_news) December 8, 2015
The regional conference focusing on Afghanistan is being hosted by Pakistan where external affairs minister Sushma Swaraj will be representing India at the ministerial stage meeting on Wednesday.
The fifth 'Heath of Asia' conference is a yearly gathering of Asian and other countries, aiming at improving cooperation to counter security threats and upholding security in the region.
EAM Sushma Swaraj meets Pakistan's Foreign Affairs Adviser Sartaj Aziz in Islamabad, Pakistan pic.twitter.com/49oHQalA5r

— TIMES NOW (@TimesNow) December 8, 2015
According to the foreign office, the high-ranking delegations from 17 supporting countries, 14 participating countries and 12 foreign and regional organization are taking part in the two-day conference.
Prime Minister Modi and Prime Minister Nawaz Sharif made a brief interaction in a global summit in Paris; the national security advisers and foreign secretaries of Pakistan and India held a combined meeting in Bangkok.
These events are likely to thaw the ice-cold relationship between the two neighboring countries. Swaraj was in Pakistan in 2002 to attend the SAARC I&B ministers conference.
Read more: Indian PM Modi Coming To Pakistan in 2016?
Stay tuned to Brandsynario for more updates!