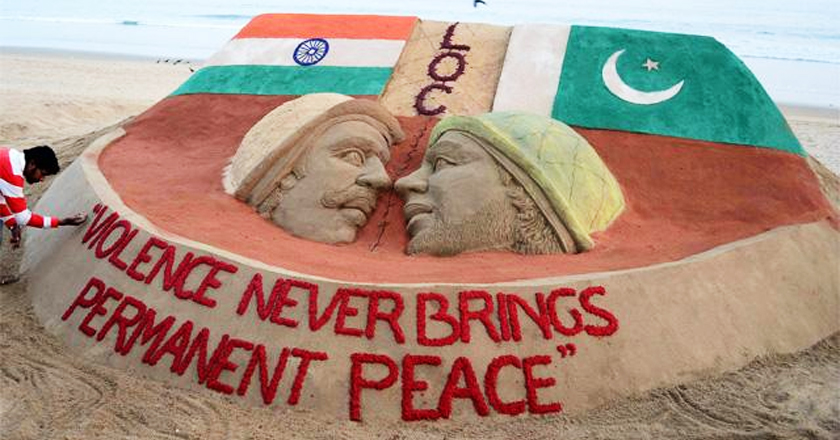 The death toll has risen to over 18 as Pakistan and India continue to exchange fire in what is believed to be one of their most serious fights in the past decade.
Tens of thousands civilians, residing near the LOC in the Pakistan and Indian-controlled Kashmir, have fled the area now, after suffering for days of heavy firing and shelling.
The UN 2003 ceasefire seems to have been forgotten while both the countries continue to blame each other on "who started it first". While governments of both the countries make futile attempts on negotiations and improving ties, many innocent lives have been compromised.
In an attempt to appeal for peace to neighboring countries, the international sand artist, Sudarsan Pattnaik, has created a marvelous sand sculpture, at the Puri Beach in Odisha, India. 
Using 3 tonnes of sand and some colored sand, the artist has created a 5ft high sculpture, depicting the flags of both countries and an injured face in between, surrounded by blood, with the message, "Bullets Can't Bring Peace."
The Padma Award winner, Sudarsan Pattnaik, has created many other such sand sculptures in the past to spread social messages and appeal for a better world and won many sand sculpture championships globally.
Here are some examples of his early work for peace: