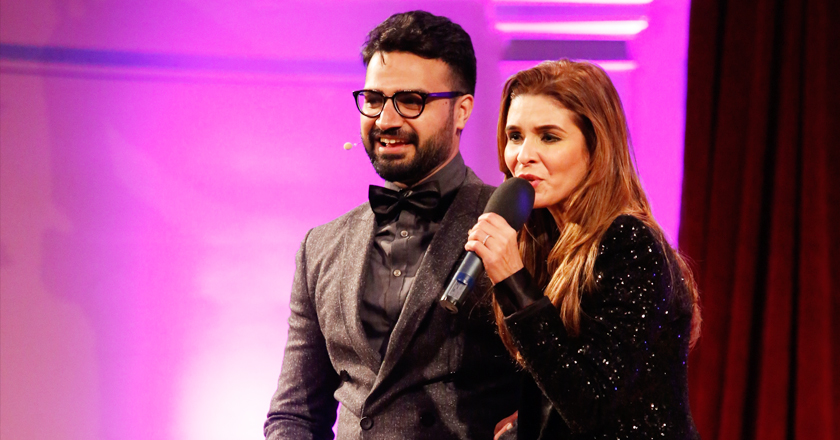 Pakistanis have another reason to rejoice. After Malala became the youngest recipient of the Nobel Peace Prize recently, another Pakistani has given the country an honour.
Junaid Younus of Siege the Band has become the first Pakistani to host the prestigious and esteemed celebratory night in the honour of this year's two Nobel Peace laureates – Malala Yousufzai and Kailash Satyarthi – in Oslo, Norway.
Opening the event, Junaid in his introductory speech articulated how big a day it was for him to be hosting the celebration night being the first Pakistani to be given the honour to do so.
"It was obviously a huge honour. As an individual and being a Pakistani. I'm the first Pakistani to have been given this honour and I feel extremely honoured. I mean we have all been reading about the Nobel prize since our childhood so finally being there hosting the celebration night for the biggest and prestigious annual event was a dream come true and a lifetime experience. I rubbed shoulders with the Norwegian royalty, the crown princess, their current and former prime ministers, met international celebrities at the after-party like Queen Latifah and Rageshwari, who even appreciated me on stage. I was there up on the stage, live, in front of a huge audience with so many foreign dignitaries being shown to the entire world, which was obviously very exciting. My pictures with the Nobel Peace Prize winners – Malala and Kailash Satyarthi — were splashed across centrespreads in top Norwegian papers and I was given the title of 'Mr Charmer'. What more can one ask for?" explained Junaid.
The celebration night was also attended by former prime minister of Pakistan, Yousaf Raza Gilani, who spoke on the occasion and mentioned the time Malala was shot and he was the chief executive of the country and how he dealt with the situation.
The night featured musical performances by Norwegian local groups, legendary Pastho singer Sardar Ali Takkar, Norwegian-Indian kathak dance group, the Khan group on violins, Pakistan's very own Shahzad Roy and Falak Shabbir, and popular Indian singer, actress, host Raageshwari.