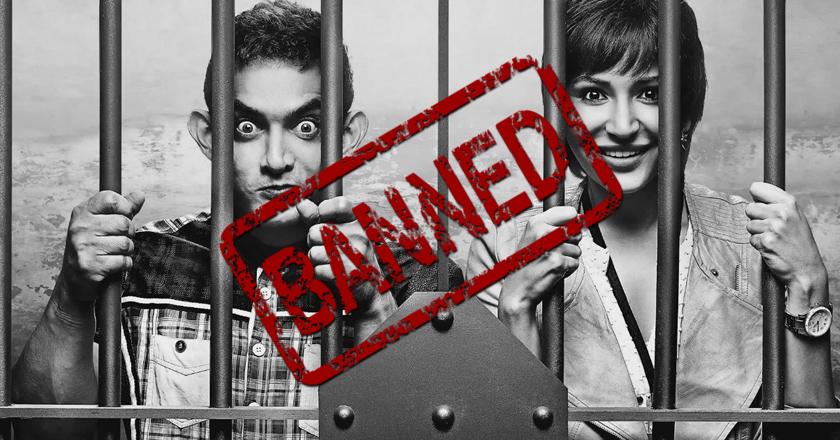 Aamir Khan's latest movie, PK, has been the subject of controversy amongst many Hindus since its release, but now Muslims too feel that some scenes hurt religeous sentiments.
PK revolves around the story of an alien trying to understand the human race and claims that the self-claimed god men have created confusion and complicated the relationship between God and man. The movie does not focus on any particular religeon specifically, but points out to the fact that we don't need intermediaries and many religeous 'pundits' have made religeon a commercial business. While the movie has been appreciated by many and is performing well at the box office, many of its objectionable religious scenes have been the subject of criticism.
While there had been ongoing protests by Vishwa Hindu Parishad, Bajrang Dal, Hindu Janajagruti Samiti andAll India India Mahasabha, All India Muslim Personal Law Board and Imam Council joined the demand for a ban too for degrading religions in the movie.
Maulana Khalid Rashid Farangi Mahali, member of All India Muslim Personal Law Board (AIMPLB) was quoted saying, "It has come to notice that some scenes of film PK hurt religious sentiments. If it is so, it is not good. Freedom of expression does not mean hurting someone's sentiments. If there are such scenes, the Censor Board should remove them so that communal harmony is not disturbed."
Furthermore, Maulana Mahali condemned the way the environment of India and UP was wrongly depicted and religious issues like the concept of "Love Jihad" were blown out of proportion. He suggested that precautions should be taken while making movies so as not to create any disharmony amongst religious sects as per the Constitution. Another criticism brought forward by Maulana Mahali was the fact that Aamir Khan, being a Muslim, has been portrayed as a Hindu in the movie and condemned religious sects, making matters more open to criticism.
In response to demands by Hindus and Muslims to remove certain scenes from the movie PK, Leela Samson, Chairperson of Central Board of Film Certification (CBFC), said, "Every film may hurt religious sentiments of somebody or the other. We can't remove scenes unnecessarily because there is something called creative endeavour where people present things in their own way."
While the movie has been under constant criticism, it has still managed to bag INR 214 crore at the box office within the first ten days of its release.
Moving forward, it is rumored that Aamir Khan is all set to prepare himself for his next role as a wrestler in the movie, Dangal. The movie is expected to release in late 2015 and Aamir Khan has already called in an international trainer to perfect him, as usual, for his upcoming role.