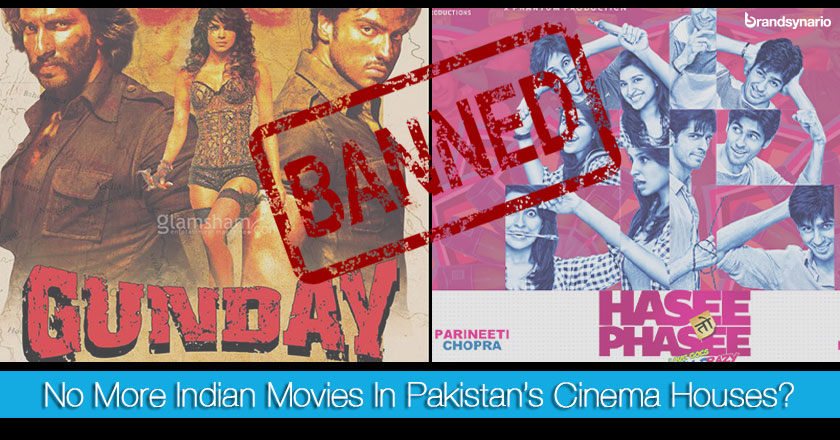 Karachi: The federal Information and Broadcasting Ministry of Pakistan, has refused to issue NOC (No Objection Certificate) to Indian movies showcasing in Pakistani cinemas, halting the release of Gunday and Haseeh toh Phansee.
According to the ministry, there will be no further issuance of license till the new laws being formulated are approved by the Federal Cabinet of Pakistan.
This step means that the newly flourishing cinema industry in Pakistan, whose profits are largely based on Bollywood movies, will soon be seen emptied up causing the cinema owners a great loss of millions of Rupees investments.
Siddiqui, one of Pakistan's leading exhibitors and distributors told Tribune, "Investors and business groups are very worried because they have invested millions of rupees while new parties are willing to channel investment, but now everything is at a standstill for the last few weeks as no new Indian films have been released."
The cinema industry in Pakistan was barred from showcasing Indian movies since the war of 1965, thus moving the cinema industry towards its demise.
After four decades of being barred, the revitalization of the cinema industry came, when Indian movies started receiving NOC's for showcasing in Pakistan in 2006, causing the development of cinema's like, Atrium, Cinepex,Nuplex and many others.
The manager of one of the oldest cinemas of Karachi, i.e. of Capri Cinema, was also found commenting that "The irony is that pirated copies of 'Gunday' are being aired on cable across Karachi but it can't be shown legally in cinemas."
This new ban in the industry will cause a lot of commotion; don't you think so?