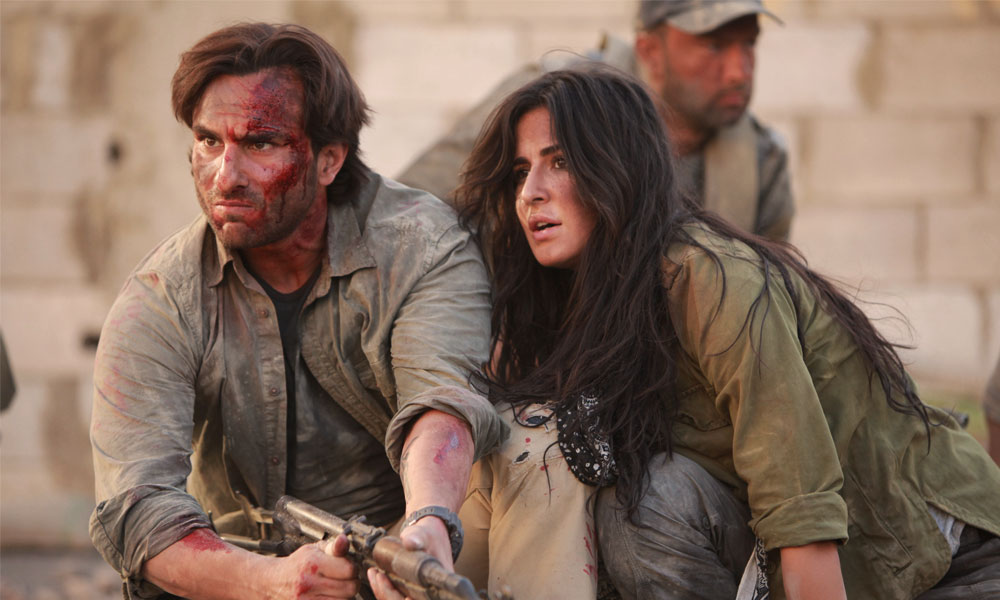 Upcoming Indian movie Phantom may not release in Pakistan. The movie, which stars Katrina Kaif and Saif Ali Khan, is based on the 26/11 Mumbai attacks. The renowned religious figure Hafiz Muhammad Saeed has petitioned the Lahore High Court to ban the movie in Pakistan.
Read more: Phantom Movie Director Defends Pakistan: Indian Media Reacts
Based on Hussain Zaidi's crime novel "Mumbai Avengers", Phantom stars Saif Ali Khan as an Indian agent who is hunting for global terrorists including one named "Hariz" Saeed, portraying a thinly veiled accusation at Hafiz Muhammad Saeed. The movie has been directed by Kabir Khan.
Furthermore, Hamza Ali Abbasi, the self-proclaimed social media military has also commented on the movie's theme:
[fb_embed_post href="https://www.facebook.com/permalink.php?story_fbid=938268116236863&id=182248258505523/" width="550″/]
Watch trailer: Bollywood Movie Phantom
On account of this alleged accusation, Hafiz Saeed has requested the court to ban the movie Phantom in Pakistan. He claims that the movie is a "filthy propaganda" against Pakistan and its content is intended to spread "venom against Pakistan".
Read more: Bollywood Movie Bangistan Banned for Release in Pakistan
The alleged terrorist also took to Twitter and started the hashtag #BanPhantom to make his point.
Indian propanda films against Pakistan are part of Indian terrorism in Pakistan. We demand immediate ban on all such movies. #BanPhantom

— Hafiz Muhammad Saeed (@HafizSaeedJUD01) August 8, 2015
Hafiz Saeed, who is currently on the most wanted list in India and has a bounty of USD 10 million placed on him by the US, claims that the Pakistani courts have already rebuffed all accusations by the Indian government of his involvement.
Watch: Phantom's New Song 'Afghan Jalebi' by Asrar
While the Pakistani government allows Indian movies to be screened in India, the Censor Board ensures that no movie with anti-Pakistani content reaches the cinemas.
Read more: Akshay Kumar's 'Baby' Banned in Pakistan
Phantom is slated for a 28th August 2015 release, but the movie is still waiting approval by the Pakistani Censor Board while Justice Shahid Bilal Hassan will adjudicate Hafiz Saeed's plea today in the Lahore High Court.