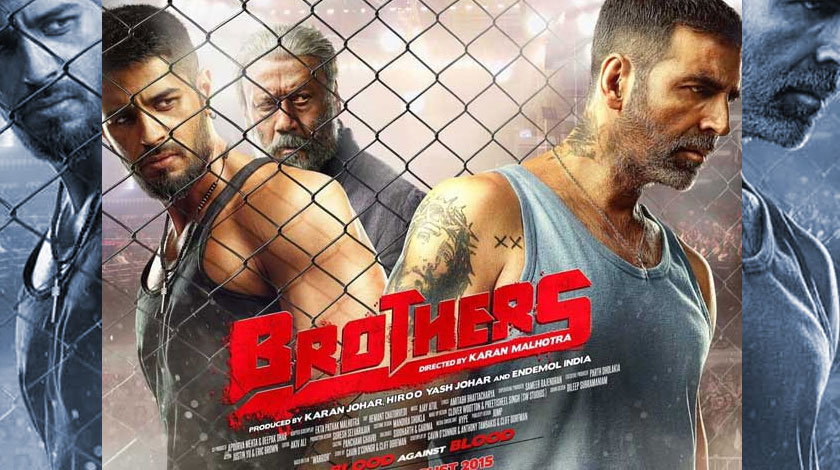 Bollywood movie 'Brothers' has earned over PKR 3o million at the Pakistani Cinemas over the Independence Weekend which was more than any local movie could manage to earn. Akshay Kumar's 'Brothers' was released on 14th August, along with the Pakistani movies Dekh Magar Pyaar Sey, Moor and Shah.
Pakistani films have faced another knockout on the box office competing against a Bollywood flick and local ventures are yet again struggling to maintain their place in the cinemas.
Related: 5 Pakistani Movies to Watch On Independence Day 14 August 2015
Last time it was Hrithik Roshan's 'Bang Bang' that stood out and gave a knockout blow to local film such as Operation O21.
Read More:  Pakistani Movie Shah clashes with Indian Movie Brothers on Independence Day
According to sources, Dekh Magar Pyaar Sey was able to record a low turnout in its opening days and viewers left the cinemas during the time of interval.  Two other movies, 'Moor' and 'Shah' were able to entice the audience. Due to the revolving theme of patriotism during the weekend, these two films benefitted and were able to perform better than DMPS.
Read More: Dekh Magar Pyar Se Leads Pakistani Box Office, Shah, and Moor follow
The opening day collection of 'Shah' was around Rs 3million and the following day it earned around Rs 1.7 million at the box office. The opening weekend was estimated to earn gross Rs 6 million, so the distributors of the film were satisfied with the performance.
According to Mirza Saad Baig, Director of the film, "With the space crunch that was there this weekend and the limited resources our movie was made with, we're satisfied with its performance. And more than anything, the reviews and word-of-mouth Shah has garnered are very positive."
Related: Akshay Kumar & Sidarth Malhotra Starrer Brothers Trailer Released
On the other hand, 'Moor' a product of Pakistan's parallel cinema is gradually picking up the pace in terms of business. During the opening weekend, it earned Rs 6.2 million. General Manager of Super Cinemas, Khorem Goltasab, said that Moor and Shah were able to perform better and due to positive response from the audience and also from the openings for both the films, the cinemas will allot more shows to these films.
Managing director of Mandviwalla Entertainment and owner of Atrium Cinemas, Nadeem Mandviwalla said in a statement that, the success of Moor shouldn't be gauged in term of its box office record but rather for its critical likeness.
Talking about Moor he further stated,  "Moor is a film that will continue to move at snail speed at the box office. We had only allotted it two shows on the opening weekend. All those shows went full and even this week, we're going to give it two shows. If it manages to sustain its level by next week, then that would mean it's doing well."