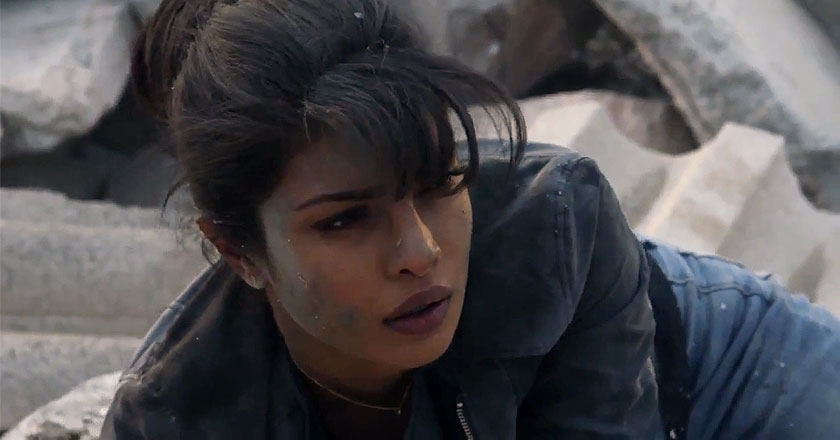 Bollywood's Bond Girl, Priyanka Chopra, has achieved yet another milestone in her career by being the first Bollywood actress to star in an American TV Series, Quantico.
The versatile actress plays the role of an FBI agent, Alex Parrish, who is eventually blamed for being the mastermind behind what is said to be the biggest terrorist attack in New York City after the ill-fated 9/11 incident.
Half Caucasian, half Indian, the sultry FBI agent has wowed everyone with her performance and her desi accent in the recently released trailer for Quantico.
The trailer starts off with Priyanka Chopra, lying in rubble, introducing herself and quoting her dream of protecting her country. A flashback then shows her on board to a plane to FBI's training base, Quantico, getting chummy with a fellow recruit and eventually, the terrorist blast and her desi self-be blamed.
The drama has all the elements of a typical US terrorist drama series: a black woman as the loyal sidekick, a blonde chasing guys, a hijabi Muslim, a British stealing the scenes with his accent and the adorable golden boy.
Watch the trailer:

Quantico (ABC) (2015) Official Trailer [HD] by EntertainmentUlagam
Produced by ABC network, the TV series stars Jake McLaughlin, Tate Ellington, Dougray Scott, Yasmine Al Massrid, Graham Rogers, Aunjanue Ellis and Johanna Braddy in lead roles along with the Bollywood actress.
As Bollywood continues to produce mindless entertainers with no storyline whatsoever, it seems like Priyanka Chopra made the right move with signing up the ABC network deal.
Even if the show fails to impress the audience, it would still serve as another feather in the dusky beauty's cap after her impressive singing career.