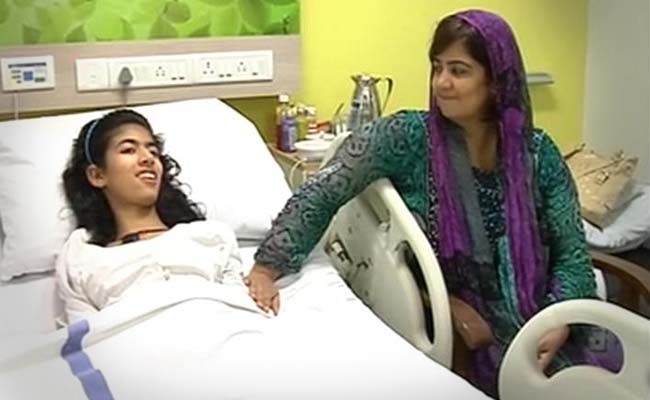 In dire times when cold war surfaces high between Pakistan and India, humanity and love conquers all.
The locals of both the states have shown that even amidst hostilities, kindness never goes out of fashion by joining hands to help Karachi's Saba Tariq Ahmed, suffering from Wilson's disease.
Staying for 49 days across the border, the 15 year old along with her mother returned to Pakistan with memories full of compassion shown by the Indians. While the child suffered from a rare genetic disorder resulting in excess accumulation of copper in the  body, a whopping amount of 13 lakhs was generated by 130 contributors in India within hours for her treatment at Jaslok hospital in Mumbai.
"Nazia (Saba's mother) said she had been warned that things would not be smooth in India, and she was happy that her fears did not come true. She said Mumbai had been full of warmth and happiness for her and her daughter," said Dr Aabha Nagralof Jaslok hospital, who treated Saba.
The emotional crowd funding move started back in August over the Independence Day weekend. When Saba's situation became dismal in Karachi, the Save Saba appeal commenced. As soon as a handsome amount was collected, the teenager's mother managed to get a medical visa to Mumbai for her daughter's treatment.
Read More: Salman Khan to Help Lost Indian Girl Meet Her Parents in Real Life
With 7 weeks in India, Saba and her single mother now believe that they have found a family beyond Pakistan. Returning yesterday to their homeland, they have in their vicinity bridged the gap between the two nation with their gratitude and compassion towards their saviors.
"Saba and her mother, Nazia, boarded an afternoon flight for Karachi. They were extremely happy about how well the treatment worked for Saba," said Jaslok hospital's CEO Dr. Taran Gainchandani
However, this was not the first time friends from India responded to Saba's plea. Earlier in April-May, the NGO Bluebells Community raised a sum of 7 lakhs to aid the young girl.
While countless lives are being lost in Indo-Pak rivalry, lives are being saved as well. With the story of Saba, a ray of hope and peace shines down upon both the lands, giving a message that while bullets may kill, love will continue to revive and victoriously out-shadow hate one fine day.