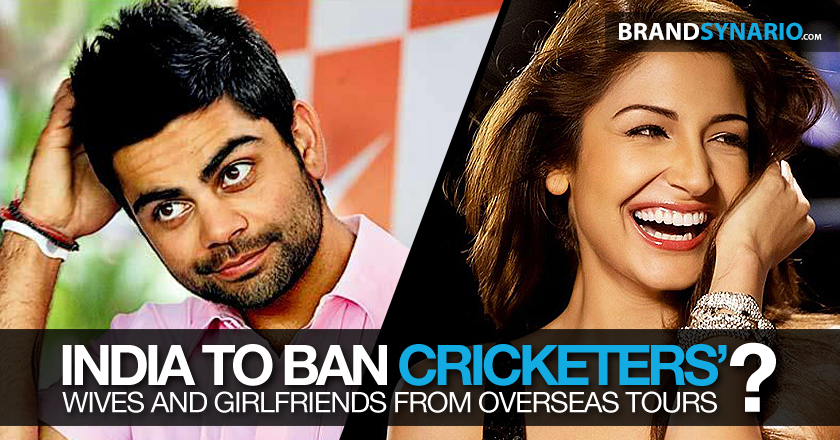 After suffering a miserable defeat against England in their recent tour, BBCI (The Board of Control for Cricket in India) is reportedly planning to put a ban on players' wives and girlfriends (WAGS) accompanying them on international tours. 
According to Indian media, BCCI plans to put a visitation limit on the time cricketer's wives spent with their husband while girlfriends will not be allowed at all.
The rules, if strictly followed, will definitely hamper many vacation plans for Indian cricketers and their families. It will also come as a sad blow to Virat Kohli and his girlfriend Anushka Sharma.
Virat is currently going through the worst phase of his Test cricket after scoring just 134 runs in 10 innings against England.
According to the official board statement given to Indian newspaper, "The England tour has been an eye-opener for everyone. From whatever information we have gathered, it's been seen that even if players wanted to focus on their cricket, their wives were being a big distraction. When some wanted to go to the gym or do nets, they couldn't do so because their wives wanted to explore the city. So we have planned that after this England series, we will curb the number of days the wives spend with their husbands on tour."
By rule, Indian cricketers seek clearance from BCCI before taking their spouses or girlfriends on overseas tours. However, after the recent turn of unfortunate defeats, the board will follow Australia's Cricket board policy of allowing a stipulated time slot when the player's family can join them on a big away tour.
"These are some of the issues we wanted to address to see that the Indian team gets back on track. Whatever happened has happened, we want our boys to be more focused on their cricket from heroines," a source said.
It is yet to be seen if such restrictions will encourage or result negatively on cricketers' performance.