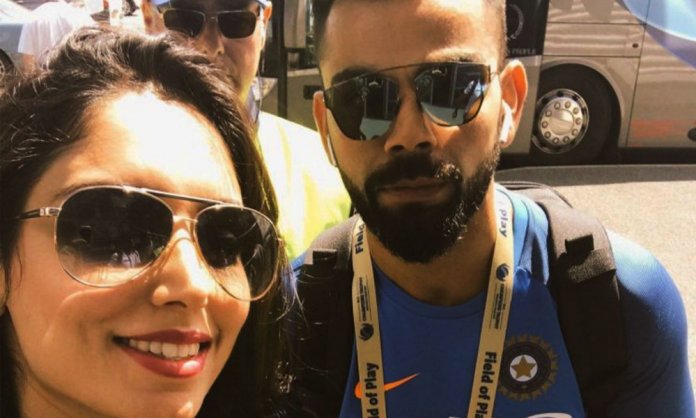 India lost to Pakistan my a major margin of 180 runs, and Indians could not handle the loss! Not only did they burn down the posters of the Indian cricket team, but they also protested outside MS Dhoni's residence.
Now, the Indians have found another person to put the blame on, who other than Pakistan's very own Zainab Abbas, the famous sports journalist who took unfortunate selfies!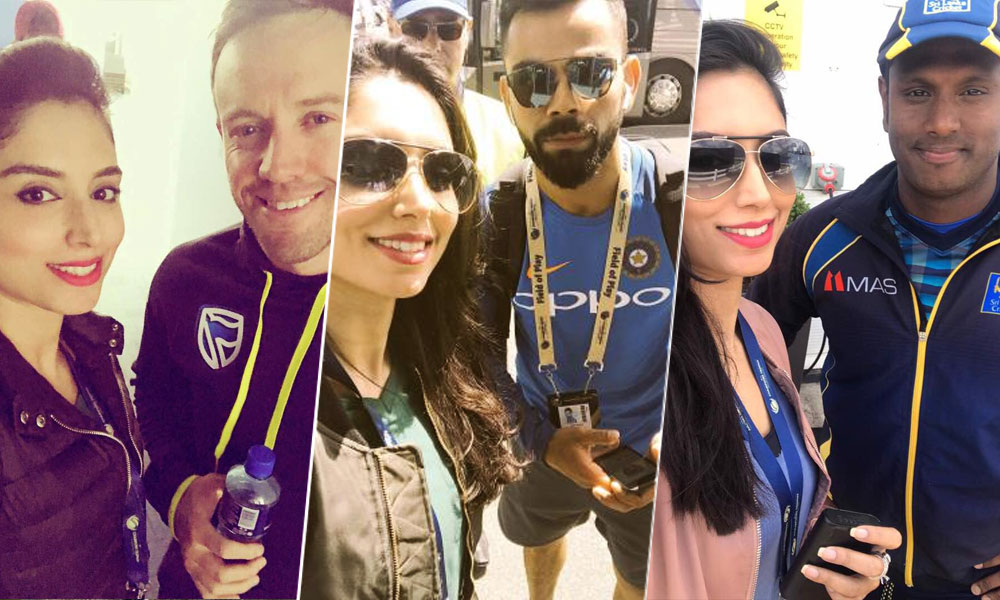 According to a myth on social media, Zainab took a selfie with AB de Villiers and Virat Kohli, both went out for duck!
She also took a selfie with Sri Lankan skipper, Angelo Mathews before the Pakistan, Sri Lanka match, the virtual quarter-final of the tournament.
She even managed to get a selfie with other members of the Indian team!
Here's how Zainab came back at her trolls;
"Taking selfies with anyone is not an awkward thing to do at all and we all take selfies with known personalities whenever a chance comes our way but terming these photos a bad omen, for someone is totally uncalled for. I personally feel that fans, over the social media, went overboard and turned derogatory at time. We must understand the difference between humour and humiliation"- Zainab Abbas
Zainab & Her Selfies to be Blamed?
The Indians are accusing her selfies to be cursed, and are calling them the reason behind India's loss.
Their media surly thinks so, this is how low they stooped to blame Zainab for her 'Selfie Tootka' which resulted in India's shameful loss.
Pakistanis Support Their Superstar
Pakistanis are calling Zainab their hero, and want to give her the same welcome like Sarfraz received when he arrived in Karachi!
Our very own 'Cricket Bomb'
OK its official. @ZAbbasOfficial is better than any nukes. Hey, lets use her badluck charms and get Kashmir! 😂 @ISPR_Official https://t.co/EYB3jX47dz

— Nadia (@BayraGarak) June 20, 2017
Qasmmeeyyy… Contract toh banta hai boss!
bus agli bar hm Pakistan Team nahi bhejengy @ZAbbasOfficial ko he bhej dengy. She should be given A contract by PCB

— Syed Hasnain Kamal (@SyedHKamal) June 20, 2017
Ohh huamri Jainab-Jabeee, tujhe maloom nahi, tu kitni hai lucky!
@ZAbbasOfficial indian said zainab nh #jainab😂😂😂

— imsana_srk (@Sanamalik41) June 20, 2017
Koi doh raai nahi hai iss mein!
Whenever @ZAbbasOfficial returns to Pakistan, she deserves the same welcome as Sarfaraz.

— Old Man Logan (@ChefShamsher1) June 20, 2017
We love her too bud!
Omen of bad luck for some, but a lucky charm for people who matter; your people.
Much love @ZAbbasOfficial, ur the best at what u do rn!

— Sami Tariq (@ItsSamiTariq) June 20, 2017
Zainab, how about brunch soon?
I want to see this GREAT journalist

— Saman Mirali (@rozaadar) June 20, 2017
Hayyeee, Chalo khair, weapon weapon hota hai!
Zainab is our secret weapon but not any more…

— Syed Salman Haider (@SyedSalmanHaide) June 20, 2017
Behtaab Much Bro?
Zainab baji are you back in Pakistan ??

— Awais Kukoo (@awais_kukoo) June 20, 2017
Good job Zainab! Keep up the superb work!
Stay tuned to Brandsynario for more news and updates.