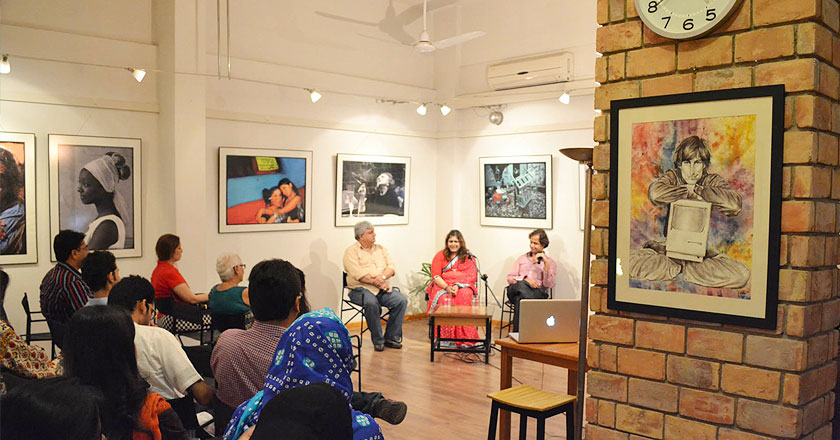 In a country where politics and warfare have always been the hot subject of discussion in lounges, television and books; author H. M. Jadav, boldly took the initiative of introducing a new genre to the society- fantasy romance.
As an ilk this has been tabooed for readers and writers alike in Pakistan.
Brandsynario got an opportunity to have an upclose and personal conversation with Hina Jadav.
Read about the unknown facts behind 'Equinox' , Hina's debut novel.
1. Tell us something about yourself.
I'm a working mother, and live in Karachi with my husband, brother and son. I spend my time mostly at my day job, reading, writing, sometimes cooking, and of course wrangling with my son. Lately it has become my sole mission to balance my life between 'what I need to become', a fulltime author and 'what I am', a domiciliary woman.
2. How did you come across writing for this genre (fantasy fiction) and what inspired you to write Equinox?
Fantasy is my genre; I just love creating illusions for my readers, smash them with a unique buzz and bring the unimaginable to reality. The thrill of developing scenes with spookiness, creating characters with incredible yet believable powers is in itself an inspiration, a drive. I want my stories to remain with my readers for a long time, even after they've put the book away. Because of what Richard and April are, Equinox had to be a fantasy fiction.
3. What issues if any did you face in getting your debut novel published?
Oh, this is going to be overwhelming, firstly the genre that I have acknowledged is still not acceptable by the so called traditional publishers in Pakistan. It's rather sad that literary agents in India do not wish to accept a manuscript from a Pakistani who writes 'romance' and 'fantasy', since I fear they are hooked to the cliché writings 'how bad is Pakistan', coming from majority of the Pakistani authors. Equinox has some snippets of adult content, so that was also a major matter of worry for me, but thanks to my friends who believed in my work and encouraged me to get it published. I'd like to take this opportunity and thank my friends Ami Ghandhi Sharma, Avani Gautam, Hitesh Budhabhatti and Tasneem Sara from Times of India for their support, without them Equinox would never had made it.
4. What's the concept behind the cover art and the title?
Let me thank the cover art designer, Samreen Syed Masroor. Also, thank you to Captain Planet and Batman (these are code names for two of my friends who do not wish to disclose their identity), since they too had to endure me during the process of its designing. The cover depicts a darker side to romance and passion. While devising a title I was initially centering my attention on an absolute bond between the two divergent characters; April Rivers and Richard Chase.
I wanted something along the lines of stars, astronomy, fate and the magic of 'Equinox'. I kept pondering over an assortment of titles, depicting the compelling inseparability of April and Richard and yet the irony that they cannot be together. My earlier choice was 'Precession of the Equinoxes', which has the same meaning as the title selected, but on a narrower scale. However, this title spun around in my head all the time, accompanied with all the gooey ones that used to make me literally pull my hair at times! I think that there couldn't have been any other title than this as it allows me extra leverage to explore and connect the science of stars and astronomy to bonding and love. 'Equinox' is not just a title; it is the most significant moment for April and Richard … a moment that changed their destiny.
5. If you could cast the leading characters in the series for a movie, which models or actors would personify your projected image?
Frankly speaking I've had thought about it so many times, I've also tried fantasizing a few models and actor, but, Richard and April are such potent images in my head… they'd never be what I have imagined. I don't think I'd ever be able to let anyone represent the leading characters, especially Richard Chase with ash blonde hair, greyish blue and sometimes sapphire eyes. Even if and when they are casted for a movie, my readers and I would always disagree. It's a known fact that movie adapted from novels never conjures the images that are there in your head of those characters.
6. How did you plan the character sketch of the two main characters, April and Richard?
Earlier Richard and April were just vague images in my head. After writing the first scene Richard developed into such a powerful personality, he is just too perfect. Richard had to be a fantasy; he couldn't be anything less than impeccable. Richard will whack the readers with his gallantry, his beautiful heart, his handsomeness, his craving to help the poor, his urge to bring happiness in the lives of the orphans, and of course his valor to jump into the thunder and storm saving people. It'd be a ride of your life. There is so much more to unveil about Richard, there is so much underneath that masculine body of his. Creating Richard as a human would have been criminal offence.
Although, Equinox is narrated from April's POV but it was Richard whom I had created first. Now to match his personality, I needed a character that was not very stunning, since if Richard would fall for someone as good-looking as him he'd be seen as a superficial being. Where Richard is commandeering, serious, a philanthropist, religious and mysterious, April loves her independence, hates charities, dislikes rules, cannot survive without chocolates, and is always at war with Jesus.
That's the problem in their relation and to match Richard, April had to be simple, independent, selfless, a social worker, someone with a pure heart and an equally beautiful soul. It's their souls that connect, and their connection is so unique that by the time one would read the sequel Explosion, they'd not only be struck with another blow of surprise, they'll fall in love deeper with these two characters. In one line, they are each other's life and death.
7. Do you plan to pursue writing as a career?
Oh yes, definitely. Once I'd be able to let some strings go loose, I'd be focusing on working full time as an author. I can't see myself living without writing.
8. What lesson have you learnt by writing your own book?
Writing a good story and publishing your book doesn't make you a millionaire. One should also hold a marketing degree for it. *shudders* Hahaha…I have also learnt to let the dogs bark! This journey so far has been very educational.
9. Do you ever go through the writer's block? If so, how do you overcome it?
I go through that, yes. I learnt to start writing short stories and then after a while going back to where I had left the previous one. Now I keep jumping from one story to another, not giving 'writer's block' to many chances to pull me down.
10. What do you think stands out the most about your novel, compared to other stories out there?
Most of the stories under the fantasy fiction genre these days are swamped with werewolves, wizards and vampires.  Richard's character is very unique, which readers will learn more about in the sequel, Explosion. And, the concept of chocolates as a life saver, as a medicine is also very unique, which I had done my research on. It's universally known that chocolates trigger one's love hormones…April survives on Richard's love and chocolates, so yeah that is kind of new, hold that thought till you read, Explosion.
11. Do you have new projects in the pipeline? If yes when can we expect the next surprise?
Right now I'm working on multiple projects, which are in the pipeline and each one is absolutely unique.
One of them is Thunder and Lightning, which is a work of fiction and is an adult read. The sequel of Equinox series, Explosion is also due to be released by the mid of next year. I'm also rereleasing a revised version of Equinox hopefully by the end of this year, stepping in as an Indie author. Meanwhile, I have written two short stories as well, one is 'Stay awake for me' that will be published in Ayesha Zee Khan's FOLC magazine by the end of this month.
This story was also published earlier this year in eFiction India's magazine under the title 'A night to remember'. I had to mellow down the adult content in it for FOLC edition, hence I changed the title. The other short story is called 'Invasion', which has already edged upon few off the record controversies by some critics. Some of the reviews for Invasion are crazy appreciations and some came from incited antagonism, for which I'd rather keep my silence. I haven't published it as yet, will do so in late September'2014. Invasion majorly focuses on Child Marriage, and faint hearts mustn't read it. I have already warned some of you.
12. Were there scenes in Equinox that were hard for you to write?
The hardest scenes ummm … I had to all the time keep in mind that April and Richard are not only different in personality but since April is seventeen she is very naive, and Richard assumed to be in his early twenties, is much more mature. His feelings are more adult. While scripting the intimate scenes between them I had to be very careful to show both their physical mechanics and emotions at different levels, which needed a lot of brain-work. The most difficult scenes for me were the first and the last chapters, both had to be captivating and both had to have the element of thrill in it to capture the audience. I have gone back to it several times now, and have been thinking what else…
13. What are your hopes and fears when the revised second edition and Explosion goes live?
Of course, I want the readers to read my book and fall in love with the characters the way I have.There is a tough competition out there from other very good writers, and since I'm from the subcontinent, the language barrier is also there, especially since it's a western based fantasy romance. But, I feel there is enough room for everyone. Putting my book out there, and submitting myself to criticism before the many is pretty frightening, but as a first time writer I think I have done well, I'm really proud of my work, and will always stand behind it.