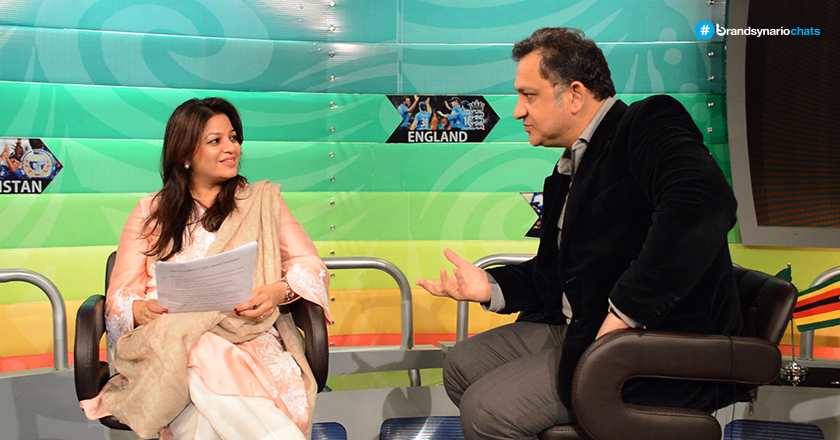 As part of our exclusive coverage of PTV Sports' 'Game On Hai' transmission, Brandsynario had the privilege of meeting one of the most well-versed and dynamic names in the world of cricket – Dr. Nauman Niaz.
Currently rendering his expertise as Director Sports, PTVC, Dr. Nauman Niaz had an interesting conversation about the performance of the Pakistan cricket team, challenges at the management level and the transformed image of PTV in an exclusive #brandsynario chats session with our Managing Editor, Ms Farhat Kapadia Mehboob.
Watch the exclusive session here:
An accomplished cricket journalist, an official historian of Pakistani Cricket ( The Fluctuating Fortunes, IV Volumes, 4768 pages) – and candidly known as the Cricket Encyclopedia, Dr. Nauman is the brains behind PTV Sports' progressive image. He has authorered seven books, the latest one being Pakistan Cricket : The story of Betrayal. His accolades in the medical field include Fellow Royal College of Physicians ( Edin) ann Member Royal College of Physicians (Lond).
Game On Hai, the first ever Pakistani sports transmission to feature international players was launched at the beginning of the Cricket World Cup with an aim to create specialized 24/7 World Cup 2015 transmission that showcases high end technical content where techniques, methods, attitudes and magnitude of the tournament is discussed.
But bringing in international cricket legends in Pakistan was no easy game. According to Dr. Nauman, "The challenge for us was the fact that foreign cricketers did not want to come to Pakistan, so our personal contacts really mattered. My rapport as a journalist was helpful in this."
Dr. Nauman successfully got Jonty Rhodes, Herschelle Gibbs, Damien Martyn and Saqlain Mushtaq on board.
"It was a big breakthrough for us. Something even Pakistan Cricket Board hasn't done yet."
He also talked about how cricket as a sport has transformed over the years, "It has become very fast and more competitive than before. What AB de Villiers does today, nobody could contemplate the possibility of it 10 years ago. They are breaking human limits."
PAK VS AUS – Aftermaths of a Loss?
Discussing the after-effects of a loss in quarterfinals, he said, "If things go as before nothing will happen. We'll find one or two scapegoat and go back to square one."
"With great players like Wasim Akram, Imran Khan, Javed Miandad, Pakistan has previously done well on individual brilliance but the world doesn't allow that anymore," he further commented.
"It is time for skilled, mechanized approach where teams are super fit – mentally, physically; they have the attitudes (of winners). There is so much commercial involvement in the game that it has become the cricketer's livelihood."
Do you agree with Dr. Nauman's views? Tell us in the comments below: