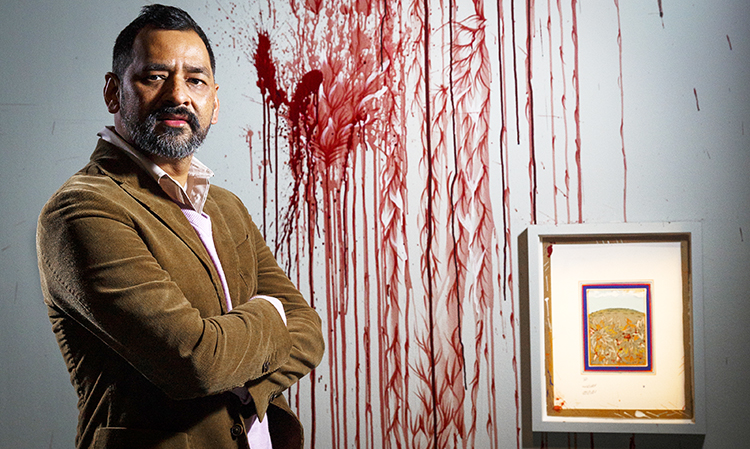 Global icon and acclaimed Pakistani artist, Imran Qureshi is the first Pakistani to have the honor of receiving the Medal of Arts Award by the US Department for 2017.
The award ceremony was hosted by the Deputy US Secretary of State Antony Blinken in Washington on 12th January 2017 at the State Department's historic Benjamin Franklin Room. Imran Qureshi joined the league of other awardees including Nick Cave, Jenny Holzer, Wolf Kahn and Rachel Whiteread.
In 2013, Art in Embassies felt the need to formally acknowledge those artists who have carried forward the mission of US State Department by promoting the cultural discretion through inter-global exchange between cultures and visual arts.
Speaking about receiving the Medal of Arts Award, Imran Qureshi said,
"I am honored and proud that my country and art have been awarded – it is recognition not just for me but for Pakistan and especially the contemporary art scene in my country. The reality is that the West is largely only exposed to Pakistan through what their media has showed to them about us, which is often times one-sided and myopic. There is a whole other side to this beautiful country. Pakistani Contemporary art is the most exciting thing happening in Pakistan with the diversity of ideas, concepts, and approaches and I appreciate greatly, the recognition of this by the Medal of Arts Award. As an artist, I have always assumed a sense of responsibility to make a significant contribution in creating harmony between different cultures and countries and as a Pakistani, am proud to accept this award in the spirit of making this world a better place through art for our future generations."
Imran Qureshi's work showcases the tradition of miniature painting and it is the same subject that he teaches his students at National College of Arts, Lahore. He has been showcasing his artwork internationally for the past two decades.
'Khwab'; Junoon's Tribute to Junaid Jamshed is Breaking the Internet! [Watch Video]
Stay tuned to Brandsynario for latest news and updates.
Contributed by: Fizza Abbas