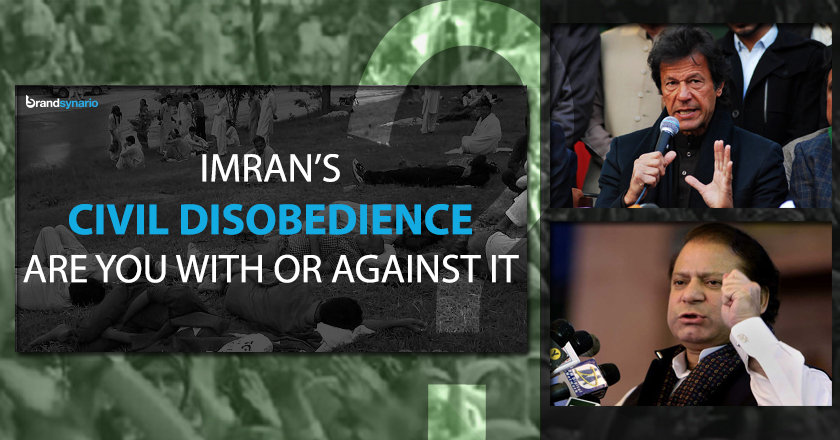 What is  Civil Disobedience? 
"
It is mostly known as a form of non-violent protest to show denial of government's certain (or all) commands, laws and demands characterized by the employment of boycotting, picketing and non-payment of taxes.
" – dictionary.com
Imran Khan, who holds the third largest majority in parliament, called for 'civil disobedience' in Pakistan on Sunday during his initiative for the Azadi March; a decision which even many of his own supporters have found difficult to accept.
"I have called for the civil disobedience movement for you, not for myself. We will not pay taxes, electricity or gas bills," Khan stated whilst addressing his supporters on Sunday.
IK (Imran Khan) who is currently holding a peaceful protest against the government along with his thousands of supporters, has instructed the public to stop paying taxes and utility bills in lieu of his movement against the government which he claims is corrupt. He has given a 48 hour deadline to the Shareef brother's to resign from power.
"The corrupt government was stealing the people's money". he stated was the reason behind this strong action.
This peaceful protest is a joint initiative of Imran Khan and Tahir-ul-Qadri, a religious opposition political leader, that started off as a long march that initiated from Lahore and is currently camped within the country's capitol Islamabad after covering a distance of 300 KM.
The move has been met by crticism from Federal Finance Minister, Ishaq Dar,who claims that the country has already suffered a loss of more than 450 billion PKR due to the ongoing sit-ins and if not stopped, could lead to economic turmoil.
Pakistan's government is in talks with the IMF in Dubai for reinstating loans, which if denied, could cause terrible economic disorientation within the country. Why is it then that our beloved PTI leader chose to use the "civil disobedience" card at these hard moments? 
The Federal Finance Minister questions Imran's motives by asking ,"Who in the favor of a better Pakistan would do that at this current moment and why?"
Federal Finance Minister -Ishaq Dar on Sunday also voiced some facts regarding the country's economic downfall stating,
"IMF officials are surprised whatever is happening in Pakistan," & "Pakistan is progressing economically. What is the objective of this protest?"
Who May Benefit from Civil Disobedience and How?
Seizing this important moment to pressurize the Shareef brothers with Civil Disobedience can only be beneficial for Mr. Khan's party – PTI and PAT, but not in any way for the country.
According to Moeed Pirzada,
"Imran Khan has played very cleverly. Civil Disobedience is a very popular and alarming concept in West and Pakistanis don't even know what it means. By announcing a symbolic Civil Disobedience movement he means to attract west and other world powers. Now all international newspapers/media will flash this news. And Nawaz Sharif will not be able to bear the pressure. It's a pressure building tactic."
The march, which was considered to have reached its culmination, has now grabbed the attention of the international media as well, specifically after the call for  'civil disobedience'.
This morning the following feeds came in from various international media,
Wall Street Journal quotes,
"Former Cricket Star Imran Khan Urges Mass Civil Disobedience. Politician Says No Taxes Should Be Paid to 'Fraudulent' Government."
Huffington Post quotes,
"Pakistan politician calls for civil disobedience."
Daily Times quotes,
"Democratic forces dominate, Azadi March near logical conclusion."
 "Civil Disobedience"? When has it been used in the past ?
Back in the 1919 Revolution, Egyptians rose with civil disobedience against British Occupation for the first time. Also, the same was used by Gandhi during the Indian Independence Movement against the British rule in India. Civil Disobedience was also a part of the American Civil Rights Movement in South Africa during the fight against apartheid.
Most of the civil disobedience movements have been non-violent ones and have resulted in massive changes. Civil Disobedience however can be categorized under three different categories,
Violent vs Non-violent
Revolutionary vs. Non-Revolutionary
Collective vs. Solitary
Though, it's completely legal under a democratic rule to use civil disobedience as a tool for portraying an anti-government movement, conducting it at a time  when the country is in a dire need of support from its own residents, reminds us of a quote potrayed earlier by Liaquat Ali Khan's famous fist,
"United we Stand and Divided we Fall."
Don't forget to share your views in the comments below.