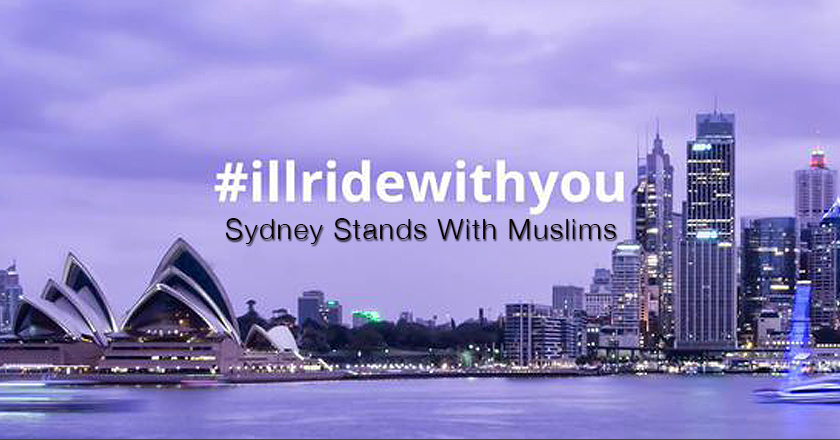 Once again, Muslims were about to suffer in non-Islamic states, as one man, under the name of Islam, held over 30 people hostage at the Lindt Café at Martin Place, Sydney, Australia.
The 16-hour siege, by the Iranian man, identified as Haron Monis, resulted in the death of two innocent people, Katrina Dawson and Tori Johnson.
Usually, such terrifying incidents, under the name of Islam, result in other Muslims suffering at the hands of authorities and general public afterwards. However, a young woman name Rachel Jacobs decided to help a Muslim woman, when she took off her hijab at the train station to avoid any harassment, by asking her to put it back on.
The Muslim woman broke in to tears at the gesture and Rachel posted the incident at Facebook, inspiring many other Australians to not lash their anger out at Muslims in general.
Another woman, Tessa Kum, took to Twitter and offered Muslims to ride with her on public transport in case they feared riding alone while wearing their religious clothing.
Her hashtag #IllRideWithYou soon caught up with thousands of Twitterattis and turned into a global phenomenon, with over 120,000 mentions, as non-Muslims around Australia expressed their support for innocent Muslims.
The people are going as far as detailing their routes to show that they really mean it when they offer support. Not only the public but celebrities, ABC's Lateline presenter Emma Alberici, Today co-host Lisa Wilkinson, former Home and Away star Tammin Sursok, Dancing With the Stars host Daniel McPherson, Triple J's Father Bob and Socceroos player Harry Kewell, are onboard with the #IllRideWithYou campaign too.
Here are some of the tweets that oppose the anti-Muslim sentiments trend after the unfortunate incident at the café:
If you reg take the #373 bus b/w Coogee/MartinPl, wear religious attire, & don't feel safe alone: I'll ride with you. @ me for schedule.

— Sir Tessa (@sirtessa) December 15, 2014
#IllRideWithYou: Australians show solidarity with Muslims amid the Sydney siege http://t.co/5hFgbIp2C3 pic.twitter.com/czDCx7OdM4

— Wall Street Journal (@WSJ) December 15, 2014
Let's not be clicktivists only but #illridewithyou activists….this may well be our finest communitarian hour.

— FatherBob (@FatherBob) December 15, 2014
This is me on the tram: if you feel vulnerable because dickheads & you see me, let's travel together. #illridewithyou pic.twitter.com/fgMy1sgXRu

— St Comrade Badhamus (@vanbadham) December 15, 2014
My thoughts go out to the hostages and their families, and to the police and emergency services personnel . #lovesydney #illridewithyou

— Russell Crowe (@russellcrowe) December 15, 2014
My cabbie earlier today was Muslim. He was apologetic as soon as I got in, like it was his fault. #illridewithyou any day my friend.

— Here comes the plane (@MrJarrodHunt) December 15, 2014
No one should live in fear because that isn't living, it is existing. Let's ensure we are always looking out for each other #illridewithyou

— Rocky Balboner (@OreoSpeedwagon_) December 16, 2014
1/2 #illridewithyou overwhelmed. Mine was a small gesture because of sadness that someone would ever feel unwelcome because of beliefs

— Rachael Jacobs (@rachaeljacobs) December 15, 2014
The #IllRideWithYou campaign isn't just heart-warming, it's also smart for counterterrorism. Inclusiveness is our best defense.

— Max Abrahms (@MaxAbrahms) December 15, 2014
#illridewithyou reminds me: Muslim Woman Covers the Yellow Star of Her Jewish Neighbor with Her Veil. (Sarajev, 1941) pic.twitter.com/LTKBsMxk5N

— Ken Sekiya (@ki_sekiya) December 15, 2014
Australians tonight doing what we do best – uniting to overcome intolerance and hate #illridewithyou

— Bill Shorten (@billshortenmp) December 15, 2014
Oh … and of course #illridewithyou … it would be a privilege.

— Liz Ellis (@LizzyLegsEllis) December 15, 2014
Wonderful to see so many Australians reaching out with genuine compassion to fellow Muslim Australians with #illridewithyou.

— Tim Costello (@TimCostello) December 15, 2014
Over 6,500 #illridewithyou tweets already – currently 198 Tweets per minute – god love you Sydney

— Trevor Long (@trevorlong) December 15, 2014
Thanks for protecting my sisters #illridewithyou pic.twitter.com/Qy9l0lN1qB

— Angger Prawitasari (@anggerwitasari) December 15, 2014