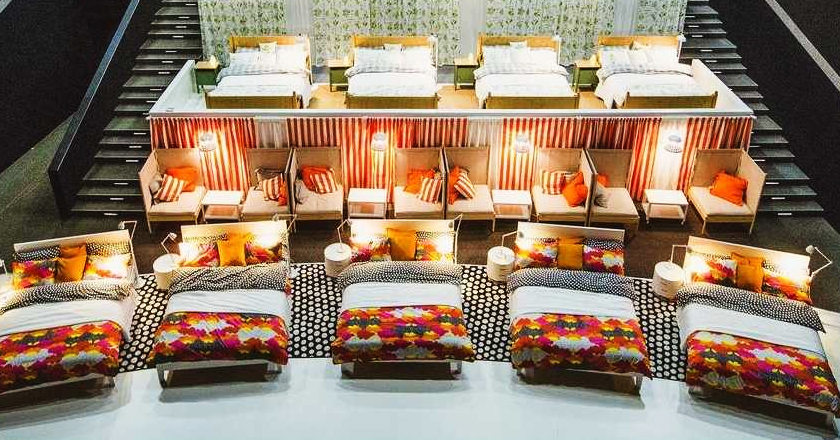 If your idea of a perfect Saturday family movie night in the winters is watching a good film while you are comfortably settled in your cozy little bed, covered in warm quilts, surrounded by your family, then IKEAs latest campaign is surely your cup of tea!
In its latest advertisement campaign, Swedish furniture giants IKEA joined forces with a movie theatre in the Russian town of Khimki and completely revamped the theatre – replacing more than 100 theatre seats and moved in more than 15 large bed sets, complete with full bedding, decorative pillows, rugs, side tables, and table lamps – giving it the look of several small bedrooms in a little theatre place.
The credulous and unsuspecting movie goers were in for a pleasant surprise when they witnessed the unusual scenario in front of their eyes.
Watch their reactions in the video below:
However, as enjoyable as this stunt may be, it accounted for a lot of hard work for the theatre staff who had to change the sheets between showings and, in all probability, also wash them to remove all the snack stains.
The entertaining publicity stunt ran for about ten days and ended on December 14. It is still unknown, and very unlikely, that the same stunt would be carried out in the United States, or any other part of the world.
But you never know! Maybe your next visit to a movie theatre could be as surprising as it was for these fortunate Russian movie-goers!