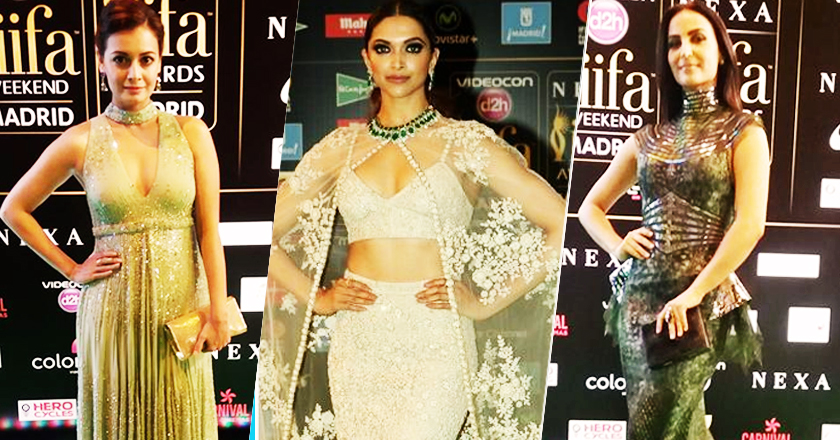 IIFA is to Bollywood what Oscars is to Hollywood- the most glamorous and the most awaited event in the industry. The full force of Bollywood came down upon Madrid this year. The city was buzzing with celebrity galore, as they graced the events with their extraordinary style. Some celebrities stole the show with their fashionable flair, others…. Not so much.
Here's a glimpse of who looked on fleek and who did not at the 17th IIFA Awards 2016.
BEST DRESSED 
Deepika Padukone
First off, of course the reigning queen of Bollywood has proved time and time again that she is the ultimate fashion icon. Deepika Padukone certainly knows how to turn heads. This year too she completely slayed in a red Prabal Gurung dress paired with statement Outhouse Jewelry and Italian luxury sandals by Giuseppe Zanotti Design.
Dressed in a white Sabyasachi Mukherjee gown inspired by Spanish bull fighters, sporting a Godet skirt and cape, The Baji Rao Mastani actress looked ravishing for the IIFA awards main event.
The white floral embellishments and netted cape gave the look a softness as well as an Indian element. Padukone teamed it with stunning emerald jewellery to cut through all that white, smokey gorgeous eyes and light pink lips.
Fawad Khan
You can never go wrong with black. The Pakistani heartthrob, Fawad Khan sported the perfect jet black suit, that could easily rival the Oscar male celebrities. Dawning republic by Omer Farooq, Fawad paired it with his unprecedented charm, easing his way in our best dressed list.
Priyanka Chopra
The Quantico star has been creating quite the buzz in the film and TV industry, whether its Bollywood or Hollywood, Priyanka Chopra has got it all covered! She graced the IIFA 2016, in the beautiful Schiaparelli Couture gown. Styled by Cristina Ehrlich, the actress looked the right combination of delicate and bold.
Although, we still think she could've done a bit better than the flowing chiffon gown with a Roman-style neckline, she still managed to pull it off.
Shahid Kapoor 
Leave it to Shahid Kapoor to make an entrance. Who knew that the star could pull off the unusually colored brown suit, all the while sitting on a horse. But the Shaandaar star managed to make his way in our best dressed list.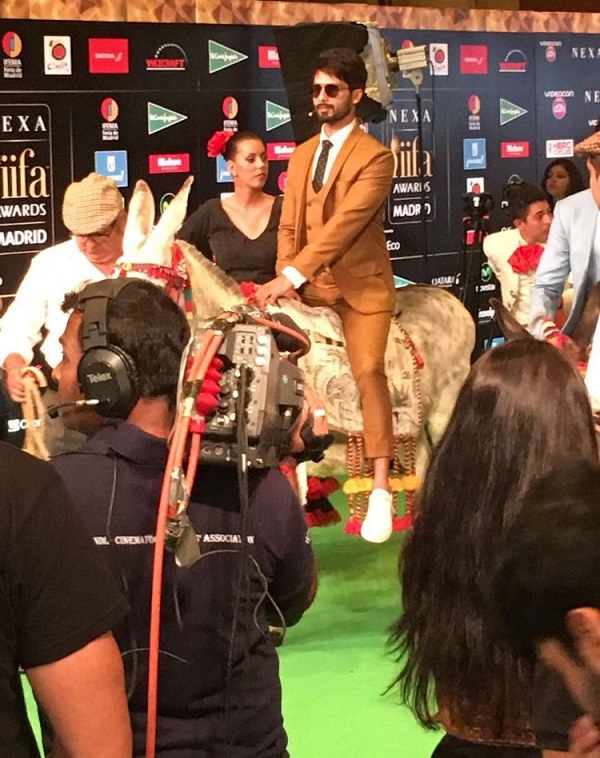 While we loved the boyish brown on him, this man was the perfect handsome gentlemen in his blue suit.
Dia Mirza
Dia Mirza sure knows how to embody elegance and style. The actress and former beauty queen looked like a beautiful dream in this fresh and lovely pastel green Nakul Sen ensemble, paired with H Ajoomal jewellery.
WORST DRESSED 
Sonakhshi Sinha 
From her choice of hairstyle to her choice of dressing, Sonakhshi sure has us all wondering, 'WHYYYY?!' The dress doesn't make the cut for elegance or bold style and lets just not talk about the hairstyle.
https://www.instagram.com/p/BHA0uvxQR18/?taken-by=sonakshisinha.fanclub
Bipasha Basu

Bipsaha's dress failed to make the cut for the best dressed list because honestly, her dress reminds us of slices of bologna. We're pretty sure that's not what the actress aimed for.
Hrithik Roshan 
While widely known for his panache and voguish style of dressing, Hrithik Roshan failed to impress us. While the actor doesn't look bad altogether owing to his natural good looks, his suit is a little too shiny and putts us off, enough to not be in the best dressed list.
Neha Dupia
Even though Neha Dupia, wore H&M, she failed to make a style statement with the white gown. Her dress looked like a cross between a nun's dress and a matron's attire. Even though her hair was on point, it failed to salvage the rest of her look.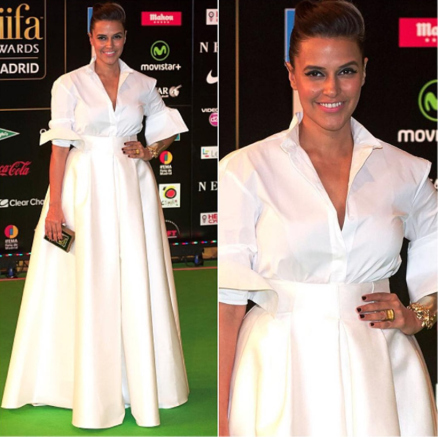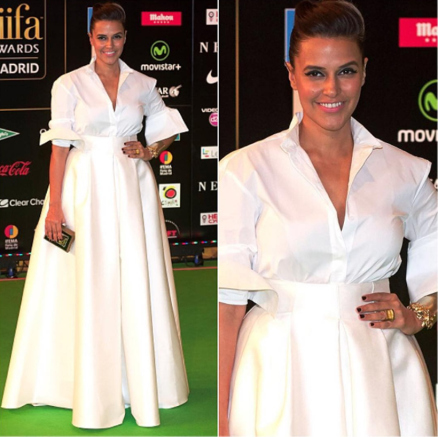 Elli Avram
Either Elli Avram loves the reptilian green or she always fantasized of being a dragon queen inspired by Game of Thrones, either way she didn't look too impressive in the Asa Kazingmei gown, hence trudging down our worse dressed list.
Stay tuned to Brandsynario for more updates!
Contributed by Abeer Anwaar.