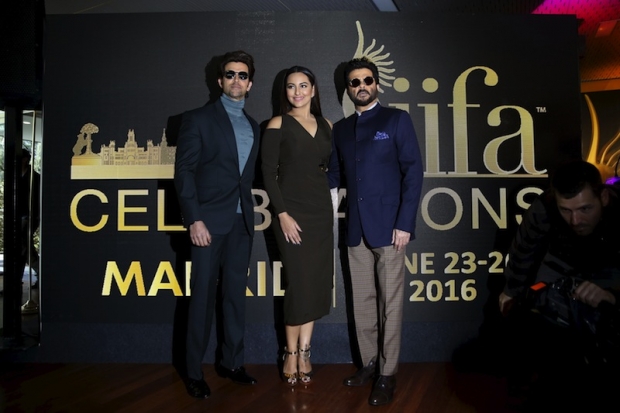 151 views
Madrid will host the IIFAs aka the "Bollywood Oscars"on June 25, officials said Monday, with Spain hoping the glittering awards ceremony will help draw more tourists from fast-growing India.
Over 100 Bollywood stars will attend the International Indian Film Academy awards, which is expected to have a worldwide viewership of about 800 million people, according to organizers.
"It is going to be real, real madness," Anil Kapoor, one of India's most popular actors who starred in "Slumdog Millionaire", told a news conference in Madrid.
"There is a tremendous amount of similarity between the Spanish people and Indian people. We believe in enjoying life, we believe in family values, we love to dance."
The ceremony, first held in 2000, honors the previous year's films and is filled with over the top performances. It is held in a different country each year.
The choice of Madrid to host the event comes as Spain is pushing to diversify its tourism base beyond the traditional northern European sunseekers and capture a greater slice of the rising tourism flows from emerging economies like India.
Last year just 85,000 Indians visited Spain but this is nearly a threefold rise from 30,000 visitors in 2011, the director general of Spanish tourist board Turespana, Marta Blanco, said at the presentation of the awards show.
IIFA 2015 Twitter Roundup – Winners' List & Event Highlights
"It is a country with great potential. We want a better positioning of our country in this strategic market," she said.
The Indian film awards is expected to bring 15,000 visitors to Madrid during the week of the ceremony and generate 15 million euros ($16.7 million) in revenue, organizers said.
Several hundred people turned out on Sunday for a flashmob hosted by Kapoor and two other top Bollywood stars — actress Sonakshi Sinha and heartthrob Hrithik Roshan — in front to Madrid city hall to promote the awards ceremony.
The actors then posted tweeted pictures of themselves eating jamon (ham) at a Madrid market, dancing flamenco and meeting with Real Madrid starts Gareth Bale and Karim Benzema at the club's Bernabeu stadium.
Known for catchy songs and whimsical backdrops, India's film industry is thriving commercially with the country producing over 1,000 movies a year — more than Hollywood.
The Indian industry sells over four billion movie tickets a year, according to the International Indian Film Academy award organizers. The Indian film awards were held in Kuala Lumpur in Malaysia last year. Europe last hosted the event in 2007 when it was held in Yorkshire, England.