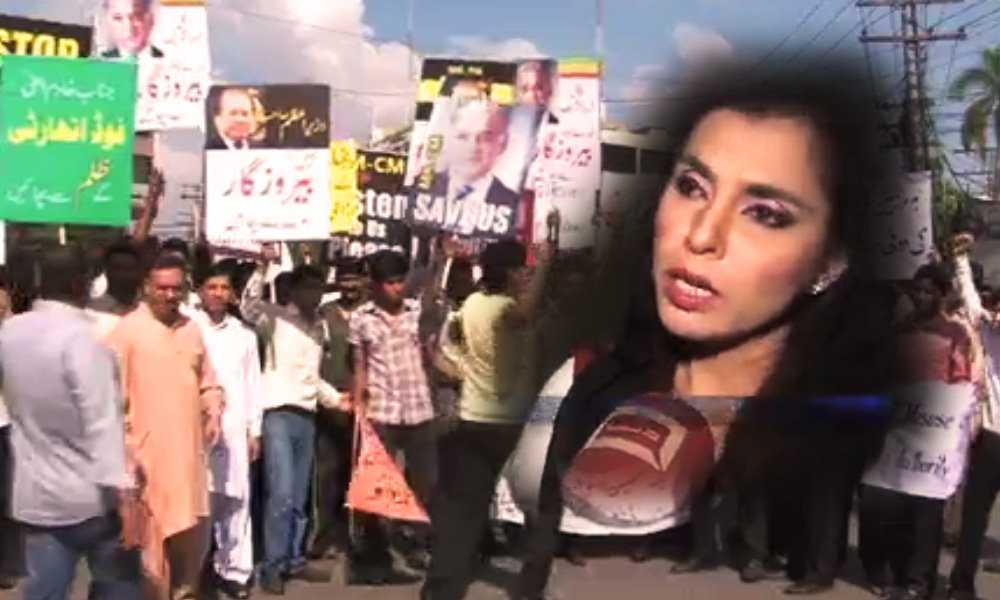 Punjab Food Authority's very popular lead Ayesha Mumtaz shows no signs of slowing down with her crackdown against food adulteration in the province.
Being claimed as Pakistan's Dabang lady, Mumtaz is perhaps the nation's most dominant women with the power of conducting rapid raids, slapping heavy fines and barring booming business to never thrive again.
More than 500 food eateries in Punjab have made it to PFA's Hall of Shame under Ayesha Mumtaz's domineering reign. With her recent feat of exposing Lahore's meat vendors who were openly selling pork in the name of beef and mutton, Ayesha has emerged as an ultimate food crusader of Pakistan.
Now Twitteratis are on a hilarious roll with all the movies Mumtaz can make for her mission to eradicate food corruption.
Check some of the most entertaining responses on #AyeshaMumtazfilms, trending number 1 on Twitter, that will surely make you ROFL!
The shashlik Redemption #AyeshaMumtazFilms

— Farrukh. (@drunkkkenapple) September 3, 2015
Ghoost of Wasseypur #AyeshaMumtazFilms — Osama Ashaqeen (@mosama1991) September 3, 2015
Biryani me kuch kala hai #AyeshaMumtazFilms

— Ali Raza (@AliRezaRizvi) September 3, 2015
#AyeshaMumtazFilms murga bacha ka rakh na…. — Shah Jee..ISPR (@Sswhussain) September 4, 2015
#AyeshaMumtazFilms presents The Last of the "Karahi Gosht"

— Kashif Naseer (@kashnaseer5) September 3, 2015
Kabi bun kabi cake #AyeshaMumtazFilms — imran (@imran_jutt41) September 4, 2015
#AyeshaMumtazFilms Food Wars : Episode III – Revenge of the Ayesha!

— Junaid Saeed Uppal (@uppaljs) September 4, 2015
50 shades of restaurants #AyeshaMumtazFilms — Hassan Kazmi (@hakazmi78) September 4, 2015
Hum aapke kitchen main rehtay hain #AyeshaMumtazFilms

— Moiz Nadeem (@Aces_of_Kings) September 4, 2015
I know what you cooked last summer #AyeshaMumtazFilms — Junaid Saeed Uppal (@uppaljs) September 4, 2015
The Dark mutton rises. #AyeshaMumtazFilms

— Zeeshan Iqbal (@zeeshan_Iqbal24) September 4, 2015
I will find you and i will seal you ! #AyeshaMumtazFilms — Zain Ul Abideen (@Zainulabideenz) September 4, 2015
The Food lady with iron fists #AyeshaMumtazFilms

— Civillian doctor (@paradoxical00) September 4, 2015
Game of potatoes. #AyeshaMumtazFilms — Moohib Amjad (@Han_moohib) September 4, 2015
Devil wears paratha! #AyeshaMumtazFilms

— Saima Saleem (@ssmawani) September 3, 2015
Mutton Impossible …. #AyeshaMumtazFilms — Riz Khan (@RizKhan2011) September 3, 2015
#AyeshaMumtazFilms Life of "Pie" Expired version

— Sarcastic (@am_i_junaid) September 4, 2015