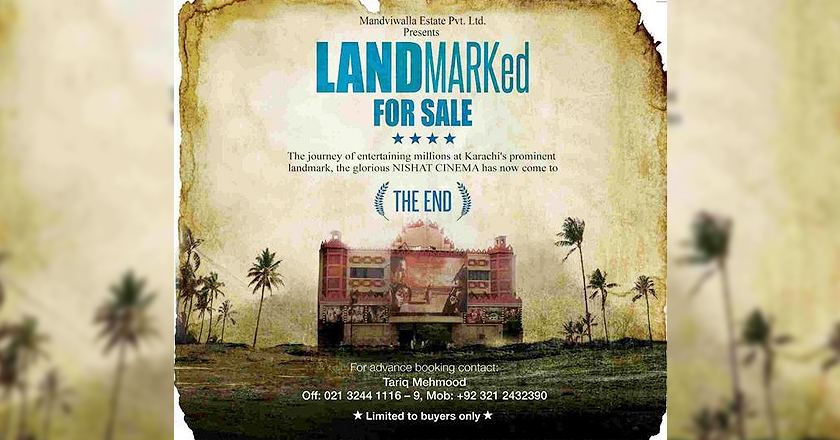 Despite its great revival, the iconic symbol of Pakistani cinema industry, Nishat Cinema is up for sale. 
The advertisement (shown above) was published on 13th January 2015 by Mandviwalla Estate.
With an emotional tagline that says, "The journey of entertaining million at Karachi's prominent landmark, the glorious NISHAT Cinema has come to an end." and a statement, 'LAND MARKed for Sale', the classic cinema is up for sale.
The landmark, according to Nawab Hasan Siddiq, Nishat Cinema Director was inaugurated on the birth date of Quaid-e-Azam by Fatima Jinnah in 1947. The cinema started running films in 1949 with the movie 'Doli'.
Before Independence it was known as Krishna Cinema named after the owner's son. Nishat was the first Pakistani cinema which was followed by Prince, Capri and Bambino.
The cinema's glory gradually died with the slackening performance of Pakistan's movie but failed to take a turn up-wards with the movie's improving quality.
Nishat got its final blow on 21st September 2012 when it was torched to a partially deformed state by the storming protestors of a foreign anti-Islam film in broad daylight.
Nadeem Mandviwalla, owner of Mandviwalla Entertainment talked to Dawn about selling of the cinema:
"We have to move on — we cannot rebuild it. There is no point in erecting a new building because what is the guarantee that it won't happen again? M.A. Jinnah road is a vulnerable point for cinemas and every now and then there are different protests and rallies happening in the area," he said
It is sad how one of the best performing cinemas of Pakistan which was a source of entertainment for those hailing from the lower strata of the society has come to such an ill-fate.