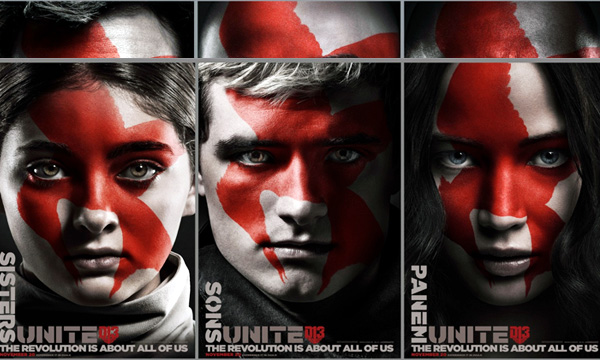 The wait is over for the most anticipated series as 'The Hunger Games: Mockingjay Part 2' posters are out now. The fourth and the last film of the popular series is expected to hit the theatres on November 20, 2015.
Jennifer Lawrence as our very own Katniss Everdeen is all set for the war. The exclusive posters of Hunger games reveal Katniss- the heroine of popular hunger games series wearing battle-ready face paint. The academy award winner is loaded to leave President Snow and the rest of the Panem's Capitol worrying as she leads the bid in The Hunger Games: Mockingjay – Part2.
Upon closely looking at the poster, we can see that the leading cast is seen wearing the Mockingjay symbol which itself has great significance – inspiring the rebellion.
Watch: The Hunger Games – Mockingjay – Part 2 Teaser Trailer
The posters were revealed on the official Facebook, Twitter and Instagram accounts as the artwork of one of the eight 'Faces of Revolution'. On Thursday, the cast appeared at San Diego's annual Comic-Con and just a few days after it the posters were out.
The Hunger Games Mockingjay Part 2 will see how Katniss and her crew travel to the Capitol and rage a war with President Snow on his home turf. The eight posters give us a clue the war paint is an indication of a revolution.
The stars of the revolution are Peeta (Josh Hutcherson), Gale (Liam Hemsworth), Katniss (Jennifer Lawrence), Prim (Willow Shields), Finnick (Sam Claflin), Boggs (Mahershala Ali), Johanna (Jena Malone) and Cressida (Natalie Dormer).
Have a look at the first posters of the most awaited series: