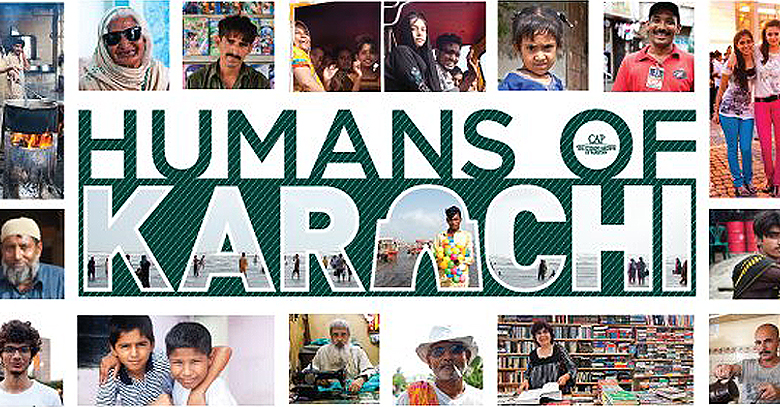 Khaula Jamil, the visionary behind the ever-so-simple yet magnificently descriptive idea of 'Humans of Karachi'got a special mention in Mashable's editorial that has received more than 4,300 shares around the world and counting.
Khaula Jamil is the founder of 'Humans of Karachi', a Facebook page that connects millions of Pakistanis using the social media site. It works to up the national heritage and pride, the city of Lights, Karachi.
The trend started back in 2010 when a man named Brandon Stanton started the page under the name 'The Humans of New York' (HONY). The page received massive appreciation and became foundation of some of the very best photographed pages on Facebook under the inspired name, 'Humans of'.
Humans of; 'Rome', 'Amsterdam', 'Karachi', 'Tehran' and 'India' are all examples of pages modeled after HONY.
According to Humans of Karachi's official page, it is founded by Khaula Jamil, Kamran Bhai and The Citizens Archive of Pakistan. Started in June 12, 2012 – the page has captured some of the most soul-touching moments of Karachi that can only be described as 'photographic ingenuity' and a heart filled of admiration for God, human life and Karachi.
Mashable quotes Khaula's remarks on the hurdles faced by her and her accomplices in managing a page that breathes on the art of story-telling of one of the most diverse cities of the world, as she writes "The Pakistani public generally shies away from anything related to media mainly because journalism has been abused quite a bit by some unethical people in the business".
When the founder of Humans of New York was asked what he had to say on the wide-spread of the inspiring "Humans of" trend, Brandon said, "The bigger Humans of New York gets and the more followers there are and the more people that are replicating it in their own cities, the more I focus on what I can control, which is my photography and my storytelling".
Humans of Karachi's featuring in one of the best story-telling websites in the world, amongst the best 'Humans of' pages, is an honor not only for the 21 million Karachi-ites but also for the entire nation.
(The Citizens Archive of Pakistan (CAP) is a non-profit organization dedicated to Cultural and Historic Preservation and Educational Outreach).