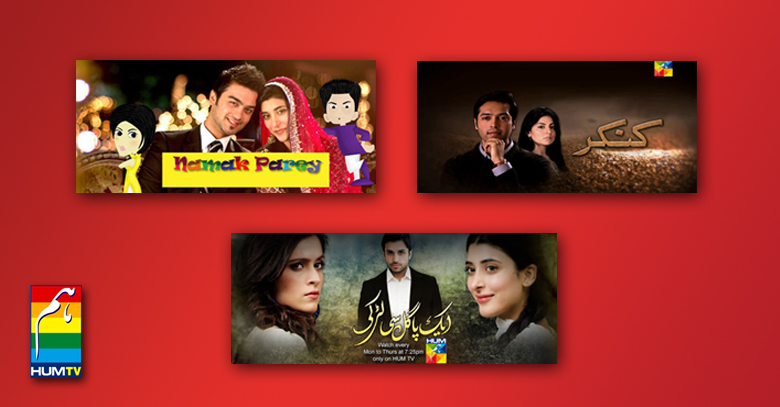 A dialogue between Synergyzer and Duraid Siddiqui, CEO of a newly launched Pakistani entertainment channel, HUM TV
Synergyzer: What inspired you to launch a new TV channel for Pakistani Viewers?
Duraid Siddiqui: Karachi Television Center (PTV) used to be like a second home to me. It was my mother's office and during the seventies and eighties PTV was like an extended family. I acted as a child artist in some dramas and later in a children's programme, Rang Barang. So, television has always been in my blood. However, though we were never encouraged to perform in plays, as we grew older, critical understanding of the quality of programmes was a much discussed subject during family TV viewing. After graduating from LUMS in 1997, I got interested in starting a television channel, but my mother was a little hesitant. The obsession persisted, and finally in 2002, I started working on it. The next two and a half years entailed pure hard work — running everywhere and going to all and sundry becoming familiar with the media business; restructuring the production house; selling programmes; and marketing and selling for PTV.
Synergyzer: Do you think HUM TV will be able to financially sustain itself particularly in view of the increasing competition from more established channels?
Duraid Siddiqui: Ofcourse, it will. HUM TV is the first channel of Eye Television Network Limited and has been launched with proper planning and structuring. As a matter of fact, I would not be wrong in saying that it is probably the only media company in Pakistan that has been founded on a proper corporate footing with solid financial foundations. Firstly because, it is Pakistan's premiere public limited television broadcasting company; secondly, it is going to be listed at Karachi Stock Exchange in a few months; and thirdly because, it is very well capitalized and has professional investors like Jahangir Siddiqui Company Limited, Aqeel Karim Dheedi (AKD), Crosby Dragon Fund, EFU and Dawood Investment Bank amongst others. Moreover it is run with professional expertise. So, Financial stability is not a real issue.
As far as established competition is concerned, if one is going to fear competition then I do not think any new brands or products would be produced or marketed in Pakistan. Most of the FMCG categories are saturated, but that has not stopped new entrants. The same is the case for media, be it TV, radio or print.  We have given good competition to these 'established channels' and forced them to revise their strategies. This should give you an idea of our strength in view of increasing competition.
Synergyzer: In your opinion, what is the most distinguishing factor, which goes in your favour vs. competition?
Duraid Siddiqui: If you look at our programming, you will see a drastic difference in quality as compared to the other local channels. Let me explain 'quality'. Though a very cliched term, it is the picture/audio quality and colours that you see on screen (this is a technical aspects and can be controlled by buying more bandwidth, high quality cameras and good mikes etc.). But more importantly, it is the content, scripting, set designing, acting and production standards that are an integral part of quality programming. At Hum TV we have invested in the latest and best broadcasting equipment available. Noor-ul-Huda Shah and senior editors head our dramas' and soap operas editorial board. Our President, Sultana Siddiqui looks after the overall quality of the programming.  There is room for improvement but I can say without any hesitation that we are the best in Pakistan. The high quality of entertainment programming is the key feature of HUM TV. We do not want to confuse our viewers with mixed programming; rather our approach is targeted towards entertainment only.
Synergyzer: In which areas of programming do you feel there is an opportunity for business growth?
Duraid Siddiqui: You need to take a look at HUM TV to find out the opportunity areas. It is quite simply, "ENTERTAINMENT". Within entertainment programming there are various genres and frankly, all of them have a lot of room for improvement.  We should also keep an eye on international trends and themes to adapt our programming to the changing international media scenario. So broadly speaking, there are a lot of opportunities in entertainment programming.
Synergyzer: Do you find any new trends in viewers' preferences for any type of programming? If yes, then please elaborate on them.
Duraid Siddiqui: Generally speaking entertainment programming is the most basic preference of any viewer. They will always watch any good programme that provides them quality entertainment. Pakistani channels concentrate on drama serials and soaps more than anything else. We also give importance to them but at the same time provid alternative opportunities. Our game shows such as "Mission Karachi" and "Kaun Khilari Kaun Anari" are getting good response from viewers. The reality show "Dulhan" is also quite popular. So, while drama serials have been able to maintain their viewership, simultaneously new genres are also getting attention and positive response.
Synergyzer: Do you plan to launch more channels in the future? If yes, then what are the specific areas that you plan to enter?
Duraid Siddiqui: HUM TV is the first brand of Eye Television Network. We will definitely be starting more channels apart from the one we are already offering. Inshallah, we will be launching at least two more channels within this year. The names and specific areas of these channels will be announced soon. You need to wait a little to find out what our plans are.
Synergyzer: What do you see as the key content
market of the future?
Duraid Siddiqui: The key content is entertainment programming. News and current affairs are important but at the end of the day, the masses want to relax. Entertainment programming will provide them this much-needed relaxation. Also, in our country, TV viewing trend is quite high since alternative sources of entertainment are very limited. Business, News and Music have a very small niche and are also reaching a saturation point. In entertainment, I feel reality shows and interactive audience shows will draw great interest from the viewers, while dramas and soap operas will retain their share of viewership.
Synergyzer: What are the opportunities that exist for new channels in the local as well as in the global market?
Duraid Siddiqui: Satellite penetration in Pakistan is on the rise. With the increase in cable and satellite homes, opportunities for new channels are also increasing. Now the state owned channels do not enjoy the monopoly they once did. The satellite channel market is giving them tough competition. There is a need for better regulation and control over the distribution networks, however the situation is still positive for new entrants. The local advertisers have received new channels well, realizing the potential of satellite media.
In the global market our neighbors have made some very strong inroads and are very dominant. Pakistani channels have to work twice as hard to reap the benefits of the electronic media boom in the international scenario. The opportunities are still there and some of our channels have been very successful in getting recognition in the international arena. HUM TV is in the process of entering these markets, and Inshallah we will be able to create a strong foothold there.
Synergyzer: Do you intend to show Indian programmes, as they are shown on other channels?
Duraid Siddiqui: A satellite channel is not bound by geographical boundaries. We are available in other countries and need to access their potential too. The programme selection is not done on the basis of country of origin; rather it is on the basis of content quality. We are open to Indian programmes purchased legally but, we would prefer to strengthen our own industry. So, though we do intend to show Indian programmes, we are mainly supporting local production houses in creation of international quality programmes.