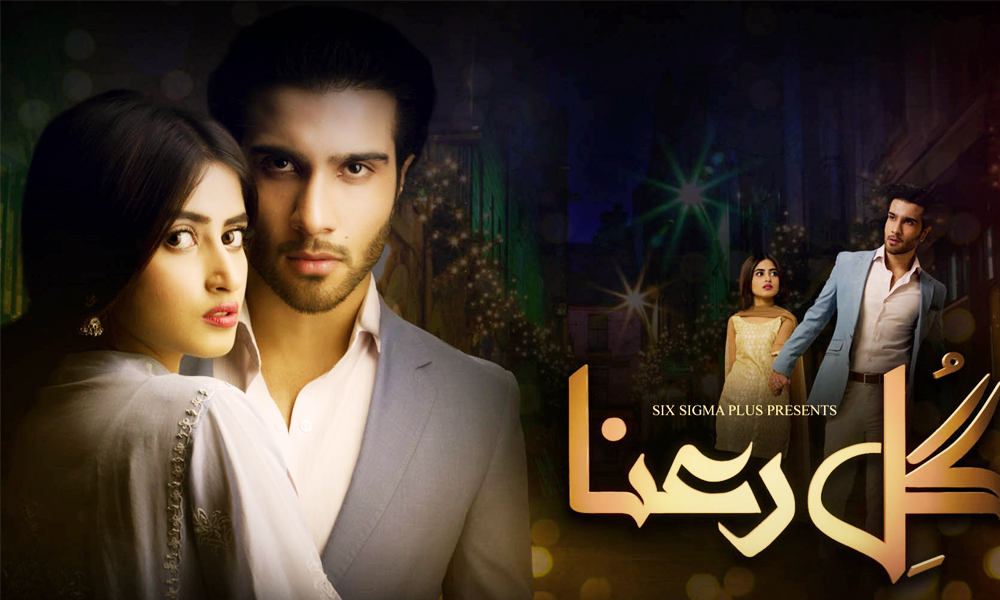 Gul-e-Rana, a novel based drama serial that depicted the love –hate relationship of Adeel (Feroze Khan) and Gul-e-Rana (Sajjal Aly) has finally come to an end; the serial took many twisting turns in the beginning; however it has been a constant drag for the past few episodes with Adeel constantly misbehaving and torturing Rana.
The major twist came towards the last few episodes of the serial when the brawling hero, Adeel who was projected as a villain throughout the serial, sobered down and became an ideal protector of Gul-e-Rana.  However, the climax seemed to be slightly contrasting than expected by many viewers and fans.
The Gul-e-Rana serial that started with a negative tone ended with a positive indication. The serial showed mesmerizing shots of both actors carrying their love-hate relationship, complementing each others' roles and avatars perfectly. Yet, the ending seemed a little impartial to many people.
This scene was beautiful the hug and tears wiping ❤️
HQ-https://t.co/RkNNsElYuc #GULERANA pic.twitter.com/cznQASBk1H

— ♕♕ (@xAaliya) April 2, 2016
Asher, Rana's cousin and a silent lover of Rana finally died from a prolonged illness. He died while dreaming of the love of his life. Ending as scripted down in the novel of Gul-e-Rana concluded on a happy note, whereas the ending showcased in the serial was purposely changed.
This was the ending in the novel,don't know why they changed the script😭not happy with the ending😒 #GULERANA pic.twitter.com/9gSE51pezC

— 💗Hani•ہانیہ🇵🇰💗 (@haniyajilani) April 2, 2016
The serial shows enticing scenes of Adeel forcing Rana to sign the marriage proposal. It also shows Rana taking care of Adeel with extreme dislike.
Yet, Rana keeps her cool and dislikes Adeel to the core; showing the least of interests in him. But the end comes with a twist! The boisterous hero turns into an earnest man. That's when Rana falls in love with Adeel and the hate relationship turns more into a romantic one.
People, however, were saddened by the end scene where Adeel is shown standing alone on the hilltop, fantasizing about Rana and regretting his actions in the past while Rana is shown teaching to children in a school, independent, content and at peace. The audiences were rooting for happy ending for both of them.
Check out the mixed reviews and reactions of people for the serial:
#GULERANA trending on the 1st in Pakistan Adeel & Rana will be missed I wish there was a happy ending😭❤ pic.twitter.com/pukl3ralxn

— Priyanka (@priyanka_ashvik) April 2, 2016
Gul-e-rana was something good and different .. loved the ending 😍😍#SajalAli #GULERANA #Ferozkhan .

— ㅤFaryal (@Niqaabian) April 2, 2016
The last 2 episodes of #GULERANA have been like an emotional whirpool! Hatts off to @ferozekhaan n sajal for the outstanding performances 😊

— Dr Mariamnaqsh (@MariamNaqsh) April 2, 2016
Look at what Humaima Malick has to say about the drama serial Gul-e-Rana:
@ferozekhaan Can't tell in words how much proud I am on this huge success what a treat it has been for your fans I truly loved #GULERANA

— HUMAIMA MALICK (@HumaimaMalick) April 2, 2016
Pakistani Actress Sajal Ali: From Doe-Eyed Girl to Television Queen
Even Humayun Saeed penned down a proud note on the ending of the serial:
Extremely proud of my entire team of Six Sigma Plus and @Humtvnetwork for the phenomenal success of #Gulerana which lead television ratings

— Humayun Saeed (@iamhumayunsaeed) April 3, 2016
Check out the sneak peak of the last episode of Gul-e-Rana:
https://www.instagram.com/p/BDqrNY-wWXF/?taken-by=sajalaly&hl=en
Sajjal Aly also thanked her fans and viewers for making Gul-e-Rana, the most anticipated drama serial:
https://www.instagram.com/p/BDtQ3tUQWat/?taken-by=sajalaly&hl=en
The new drama serial 'Udaari' will be replacing Gul-e- Rana on Saturdays at 8.00 pm, starting April 9th 2016.
Stay tuned to Brandsynario for more updates.