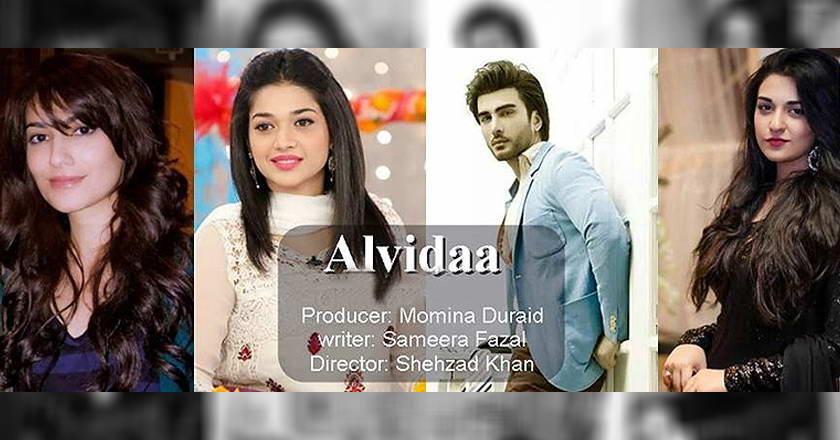 Previously, the "hit jodi" of Sanam Jang and Imran Abbas had wooed the audience with their power-packed performance and sizzling chemistry in Hum TV's former popular show "Dil-e-Muztar"
Now the dynamic duo has reunited and is back in action in Hum TV's new drama sensation "Alvida".
Eleven episodes down and Alvida has already seemed to snatch away the spotlight this drama season. According to a report by BizAsia, it has grabbed the spot of the highest Target Rating Points (TRPs) at 20:00 in UK and Asian TV channels.
Sameera Fazal's pen worded Alvida's tale, who is also the lady behind the numerous heart-winning tales of Dastaan, Silvatain, Vasal, Mera Naseeb and Shakk.
The directorial rein resides in the hands of Shehzad Kashmiri, who is also the man behind two popular dramas "Dil-e-Muztar" and "Mere Hum Dum Mere Dost".
Besides Jung and Abbas, the cast comprises of Naveen Waqar, Mahmood Aslam, Sara Khan and Zahid Ahmed.
THE STORY
A lot like the Pakistani version of "Kuch Kuch Hota Hai", Alvida's story revolves around "the now customary tadka of every love-worn drama", the love-triangle of Hadi (Imran Abass), Haya (Sanam Jung) and Uroosa (Naveen Waqar).
Haya is an adopted child, brought up by her rich paternal uncle and aunt after her own mother passed away.
Pampered, outspoken and a spoiled brat "chichori", she sadly has no other job but to daydream about her childhood crush, his cousin Hadi Salman, who she has possessively nicknamed as "HS".
Fareesa seems to be Haya's cousin and her best friend, but secretly she despises her for being raised with a silver spoon in her mouth. She is the wacky villain in the drama and is in a relationship with his classmate Saim, played by the newcomer Haris Waheed.
Hadi's character is of a well-off yet good-hearted surgeon. While he is flying to Pakistan from Somalia to now look after his dad's (Mahmood Aslam) hospital, he also has something else in mind – to marry the girl of his dreams, Uroosa who also happens to be Haya's sister.
Being love-struck and overly infatuated by Hadi, Haya doesn't realize that her beloved HS takes her as just her little sister.
While the poor "damsel- in- distress" Haya gets "friend zoned", she tries to jeopardize their marital union, blinded by her jealousy. Failing, she could not stand the thought of someone else getting her Romeo and flees from her uncle's home to find solace in the home of her friend, Kaukab.
A year passes and the story quickly jogs with Haya getting harassed by her friend's husband Faeez, played by Danish Nawaz. Uroosa dies while giving birth to her baby boy and along comes the baddie-in-the- tale Fareesa, who seizes the golden chance of getting rich by marrying Hadi in the name of taking care of his child.
Meanwhile, Haya finds a companion in her workplace Rameez, played by Zahid Ahmed who is head over heels in love with Haya and is determined to win her heart.
The drama reaches its climax with Haya's return to her uncle's home, only to find Hadi married to her best friend just 5 months after her sister's death.
The vile and greedy Fareesa tries her best to kick Haya out of her uncle's house. Even after getting slapped by her husband, she does not stop in her crazy motives; always takes her frustration out by aggressively shopping the whole town and apparently decides to destroy everyone's life in the drama.
Read More: Sanam Jung to Add Life in Hum TV's Jago Pakistan Jago from September
The last episode reveals the return of Saim, who previously had left for America after being ditched by Fareesa. But it seems his return is to teach Fareesa a lesson. Let's see what twists and turns are more to come in the captivating tale.
THE VERDICT
Though attention-grabbing to the core, the tale has quite a lot of noticeable loopholes in the make the plot which make it seem pretty far-fetched at times. With a lot of similarities with KKHH are also evident in the tale, we feel like Naveen is Tina, Haya is Anjali, Hadi is Rahul while Zahid is Aman.
Nevertheless, powerful performances by the entire cast have the viewers hooked.
Imran Abbas's acting has never been better, creating magic on the screen like never seen before. Humsafar's vamp lady Naveen Waqar returned after a big break on the TV screen and gave a stellar performance in a positive role. Shown as a simple, sensible and modest girl hailing from a middle-class background, it was a relief not to see her in the typical "holier than thou" character.
Abbas and Jung are rocking as a couple yet again. But guess what? The crackling chemistry between Jung and Zahid seems to be even more scorching, overshadowing that of Sanam and Imran as the drama is advancing. Zahid's husky seductive voice in the drama has the ladies swooning over him for sure!
Let's just hope that the drama's pace and the storyline continues to entice and captivate the audience, and does not end up dragging like countless other dramas that have good beginnings but boring endings.Also, do check out Alvida OST sung by Shafqat Amanat Ali.
Read More: Shafqat Amanat Ali's New Single – Alvida for HUM TV
The romantic "Judaai" track will surely get you addicted to it in no time.