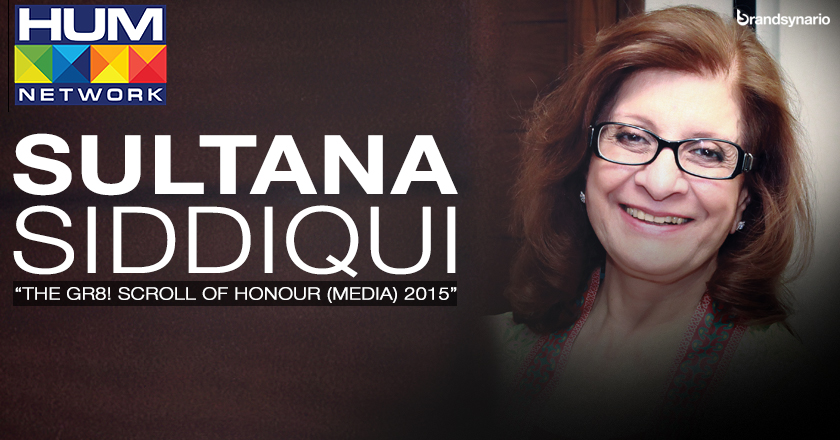 Sultana Siddiqui, President of HUM Network has been awarded with another accolade to her name. The renowned and highly respected Pakistani lady has been presented with The Gr8! Scroll of Honour (media) 2015 Award at The Gr8! Women Awards 2015 for her outstanding achievements in the field of entertainment. These Awards were held in celebration for the 20th Anniversary of the Dubai Shopping Festival and were organized by theIndian Television Academy. These awards are held in high esteem across the Middles East and the Subcontinent and are given to inspiring personalities serving with aplomb in leadership roles. The Gr8 Woman Awards are considered as very prestigious tributes which are awarded to woman of courage and conviction, who have worked towards personal and professional success.
The venue for sparkling event was at Sofitel Dubai, The Palm Resort & Spa and was attended by most of the Dubai Socialites including dignitaries, industry leaders, corporate heads, entrepreneurs and Bollywood glitterati including Alia Bhatt, Parineeti Chopra, Nimrat Kaur, Neil Nitin Mukesh and Surveen Chawla.
Sultana Siddiqui received the Award with these gracious and definitive words, "It is an honour and very humbling for me to be selected by the Indian Television Academy for this prestigious award as this is the first time that I have been recognized in this way by an organization outside of Pakistan.  I think women in Pakistan are brilliant in whatever they choose to do and very hard-working. All they need is encouragement and support from their family. At HUM Network I have surrounded myself with women in key positions and have found that they have always delivered. May this be the first of many such awards for the women of Pakistan!"
Sultana Siddiqui, the Recent Winner of "Leadership Award 2014" by CEO Club & Manager Today Magazine, has also been the recipient of Pride of Performance Award and she has debuted in the Television Industry in 1974. She has also spoken about Women Entrepreneurship and Career Development for Women on various forums.