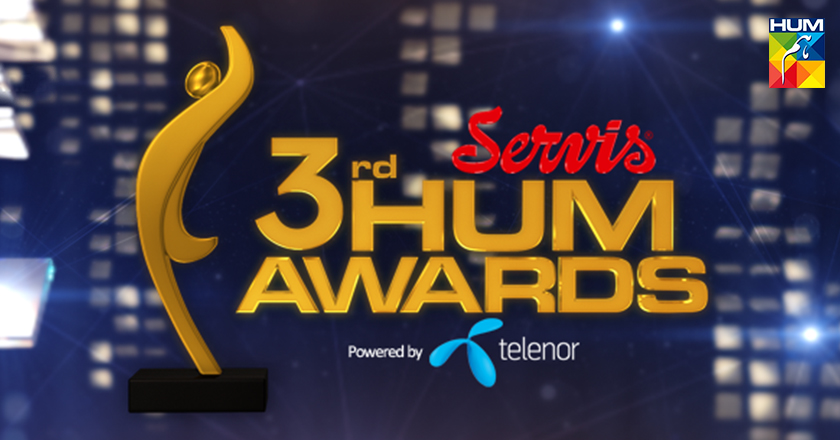 After two uninterrupted years of astonishing success, the third installment of the Hum TV awards is coming soon and this year they shall be held in Dubai!
HUM Network has finally announced the date and venue of its most anticipated and glamorous award show,Servis 3rd HUM Awards 2015. The award show is scheduled to be held on April 9, 2015 at Dubai World Trade Centre and is also celebrating the completion of HUM's 10 years in the entertainment industry and its international acclaim.
The media spotlight and the prestigious venue of Dubai is sure to attract the crème de la crème of Pakistan's entertainment and fashion industries, along with local dignitaries who will witness the splendid celebration of HUM's success.
HUM's 3rd Annual Awards are powered by Telenor. Over time, the awards have developed their own standing in the local television industry.
However, this year they are planning to go bigger than ever before. Apart from performers from Pakistan the ceremony will showcase some international acts as well.
The complete list of nominations was announced by the TV channel just a few days ago.
The list of categories for Servis 3rd HUM Awards is as follows;
MUSIC
1. Best Music Video
2. Best Music Single
3. Best Original Sound Track
FASHION
1. Best Model Female
2. Best Model Male
TELEVISION
JURY AWARDS
1. Best Sitcom
2. Best Telefilm
3. Best New Sensation – television
4. Best Actor Female – Soap
5. Best Actor Male – Soap
6. Best Soap
7. Best Actor in Supporting Role – Female
8. Best Actor in Supporting Role – Male
9. Best Actor in Negative Role
10. Most Impactful Character
11. Best Writer Drama Serial
12. Best Director Drama Serial
VIEWER'S CHOICE
1. Best On-Screen Couple
2. Best Drama Serial
3. Best Actor Female – Popular
4. Best Actor Male – Popular
SPECIALS
1. Excellence Awards
2. Recognition Award
3. Lifetime Achievement Award
For Viewer's Choice awards, viewers can vote through a call at Interactive Voice Response (IVR) at 447130 or send SMS with NOMINEE CODE <SPACE> NAME <SPACE> CITY to 8881. Viewers can also vote online here.