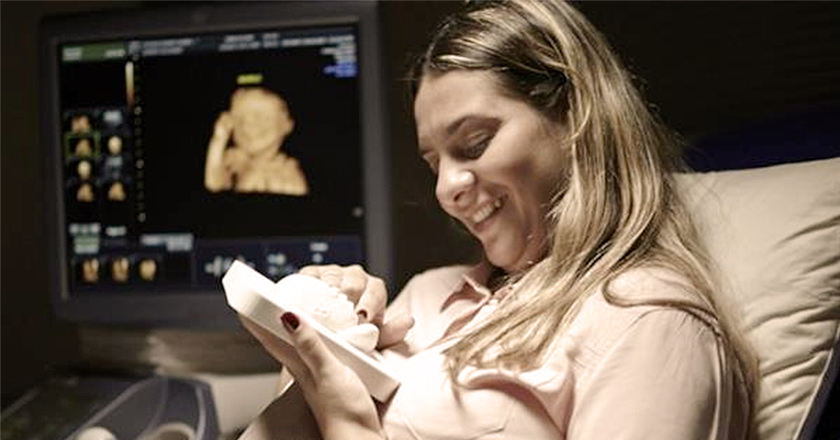 There is no feeling more beautiful for a mom-to-be than seeing the first ultrasound image of her unborn baby.
While most women can experience this wonderful sentiment, Huggies Brazil went out of the way to make it possible for a blind mother to feel her unborn child's presence, using a 3D ultrasound print of her baby.
With the help of ad agency Mood and 3D printing firm The Goodfellas, Huggies Brazil helped create the new vision of the beautiful maternal bond for Tatiana Guerra.
The ad begins with blind pregnant woman sharing her hopes and expectations of her son-to-be, in Portuguese, as she goes through multiple routine pregnancy health checks. When she receives the baby's first ultrasound image and is unable to see it, she requests the doctor to explain to her how her yet to be born son, Murilo, looks like.
The doctor describes her baby's ears and nose, as she imagines, wonders and explains how they actually might look like and 15 minutes later, the doctor brings to her a 3D printed ultrasound image of her fetus with a Braille caption, I Am Your Son.
Guerra who lost her sight over 13 years ago was overjoyed to be able to touch and feel her baby boy's replica face, making the experience all the more priceless for her.
The ad  "Huggies Presents: Meeting Murilo" is a part of a much larger Huggies campaign, #CountingTheDays, which revolves around the tagline, "Every mom deserves to embrace each moment".
As far as marketing campaigns go, this one is right up there in giving the most real meaning to a simple, beautiful fact.
Watch the tear-jerking ad here:
Huggies Presents- Meeting Murilo by thevideos11