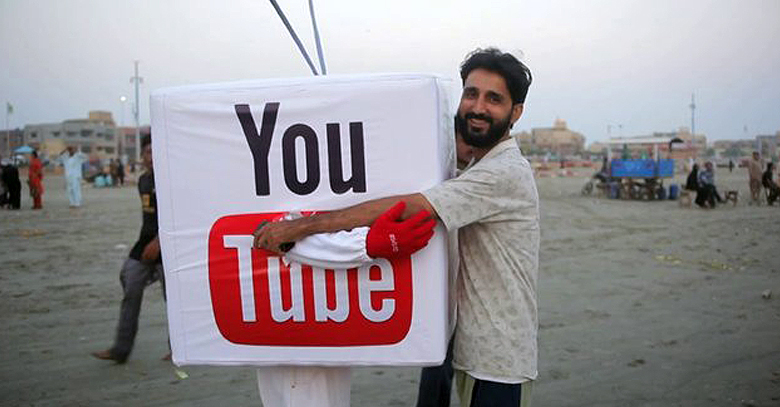 Sometimes, a hug is all you need.
Following this universal lesson, a Youtube Mascot is walking the streets of Karachi, asking for hugs from people wanting Youtube back in Pakistan.
"Hugs for Youtube" is an endeavor introduced by a Facebook page "Pakistan for All" against Youtube's almost -a year- long- removal by Pakistan Telecommunication Authority.
Frustrated by the seemingly never lifting ban, the team behind Pakistan for All launched a video campaign with a bold title "#KholoBc".
With Jackson Five's "I Want you Back" set in the background, the video shows a guy dressed in a box bearing the Youtube logo and holding a sign that says "Hug me if you want me back"
The Karachiites lovingly embraced the mascot, shook hands with it and took pictures. The video ends with the message "Say no to Censorship".
The team behind the campaign said in a message:
[iframe id="https://www.youtube.com/embed/dVGQehaDw-c?feature=player_embedded"]
#KholoBC is a Pakistan for All campaign opposed to all forms of state censorship and content regulation on the Internet. We believe all individuals have the right to make their own judgments and decisions about what they do online. We also believe that there is a concerted effort underway to undermine our online freedom using the smokescreen of national security and religion. We are certain that in the absence of any resistance, these efforts will succeed. Don't let that happen. Be part of the Pushback!
YouTube was banned a year back for not deleting the blasphemous content against Prophet Muhammad (PBUH). Though rumors of the government negotiating with Google Inc. have been much in the air, but no decision has yet been taken to raise the ban.
People have been missing their favorite video hosting website for a long time and no other portal has been able to replace YouTube in its absence. The popularity of the greatly viral campaign by Pakistan for All has made it evident that people are longing to have YouTube back
Do you think it's high time to lift the ban on YouTube in Pakistan?