Pakistan's renowned media personality, Aamir Liaquat is all set to make a big comeback on Geo TV with his most popular game show, Inaam Ghar. Read below to find out the complete registration process.
According to Inaam Ghar's official Facebook page, this time around, the game show will be even bigger and better with a twist. Keeping PEMRA's instruction in mind, the audience and participants will be selected through auditions only.
Breaking News: Aamir Liaquat Returns with "Inaam Ghar"
See the image below for Inam Ghar registration number: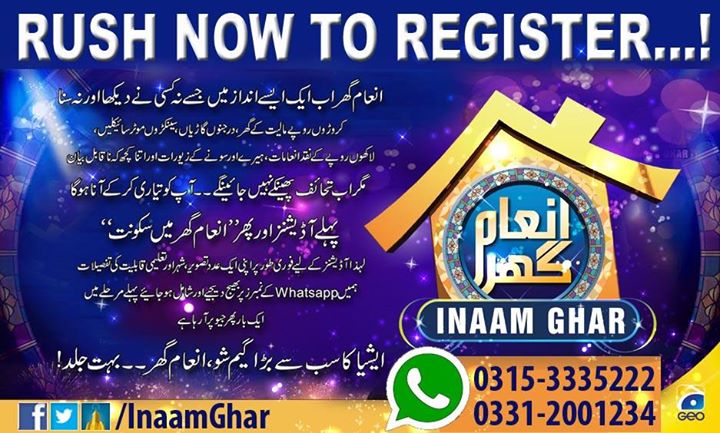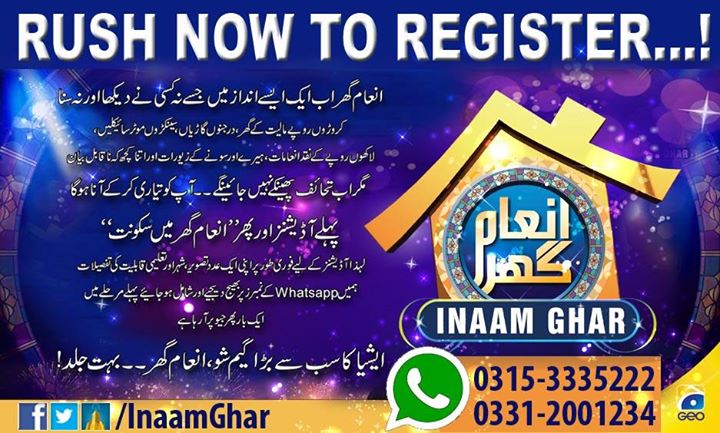 Aamir Liaquat Back with 'Inam Ghar Plus' – Registration Process & Show Timings
HOW TO REGISTER FOR AUDITIONS
In order to enter and participate in the show, all you have to do is send the following information to the mentioned numbers: 0315-3335222  OR 0331-2001234.
Your Name
Your Picture 
Your City 
Your Educational Background
Inaam Ghar – Launch Date and Show Timings
According to the details, Inam Ghar will offer pricier gifts including plots worth millions, gold and diamond jewelry, cars, motorcycles and much more.
Watch the first look of Inaam Ghar's new season here.
[fb_embed_post href="https://www.facebook.com/InaamGhar/videos/927762160638588//" width="550″/]
Stay tuned to find out more about Aamir Liaquat's Inam Ghar.
Read more: Aamir Liaquat Returns to GEO TV as President GEO Entertainment
---
Inaam Ghar made its debut on GEO television, Saturday 18th January 2014, and as expected hundreds participated while millions watched the show.
Based on a theme similar to that of Tariq Aziz's 'Neelam Ghar' and inspired by Aamir Liaquat's Loh-e-Qurani, 'Inaam Ghar' gave hundreds of thousands Rupees worth of gifts in one transmission.
As the name suggests the 'Inaam' (Gift) is one big incentive for people to try and participate in the show, but the most asked question is, How to get in Inaam Ghar? Well, here is the answer:
Inaam Ghar invitations are NOT FOR SALE. They can only be received through sending messages, but since thousands send messages every day, one might not get a response immediately.
–     From your cell phone open, 'Messages' and click on the 'Create Message' option.
– Write: IG <space> Name <space> Area <space> CNIC #. Send it to 436.
o Example: IG RAHEEL KARACHI 42201-1454950-3
– The Message will be charged at Rs.5+TAX
The officials of the show claim that messages received will be prioritized on the basis of 'First Come First Get'.
Sponsored by Qmobile and Tullo Banaspati , the show 'Inaam Ghar' consists of segments that include; live cooking, quiz competition, hide and seek game (couples or teams will participate), choose the right partner game, Live birthday party for children, discussions with newly wedded couples and lastly, distribution of dowry twice every month for a needy family.
Aamir Liaquat single-handedly left TV channels behind in his trail, when it came to television ratings last year, his transmission of Amaan Ramadan alone trashed ARY, HUM and URDU1. Thus, the significance of 'Inaam Ghar' and the innate threat it is for all the current (imported) game shows we have in hand.