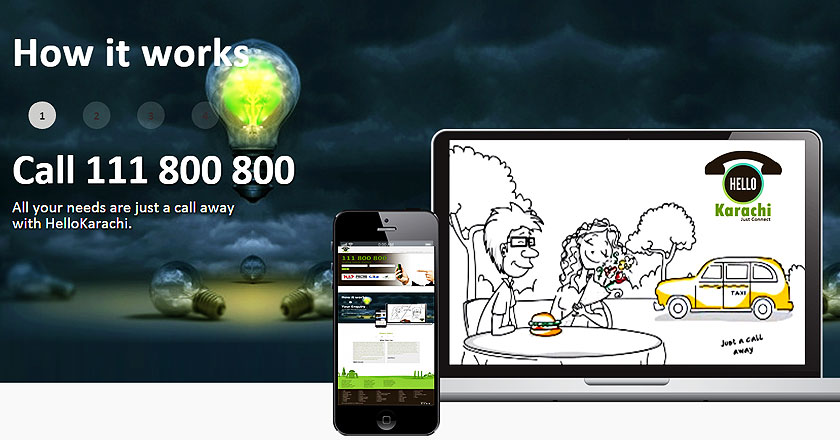 Visiting a new café in town?
Having trouble finding the right route?
Stuck in the maze-like lanes of the city?
Well then worry not and ring up 111-800-800 to summon Hello Karachi's service to save your day, with its detailed step-to-step travel guide to find your way across the city.
A venture of Polani Groups, Hello Karachi has risen as a one-stop, road-guide guru for helping you to travel around the town.
With an enormous directory full of around 4,50,000 destinations of businesses of all sorts, the telephonic search engine tends to put an end to Karachiites misery of getting lost in the city.
Read more: Hello Karachi – Your Fast & Easy Way to Find Locations in Karachi
From phone numbers to address and business timings to location guide, the mighty database of Hello Karachi claims to know-it all.
How It Works?
1) Dial Hello Karachi's helpline number 111-800-800
2) Request for the information or destination details you require
3) A reply will be provided to you on call and can also be e-mailed or SMS-ed.
Karachi is a big, bustling city and its baffling, jam-packed roads can be quite hard for many to understand. Not knowing the way around can be excruciating, adding unnecessary minutes to your  time and schedule.
Undoubtedly, Hello Karachi has emerged as a free desi telephonic substitute of Google Maps for Karachiites; only offline, simple and relatively easy to use.
Whether you are on a bike, foot or on car; Hello Karachi assures not to disappoint the citizens with its 24/7 365 service availability, anytime and anywhere.