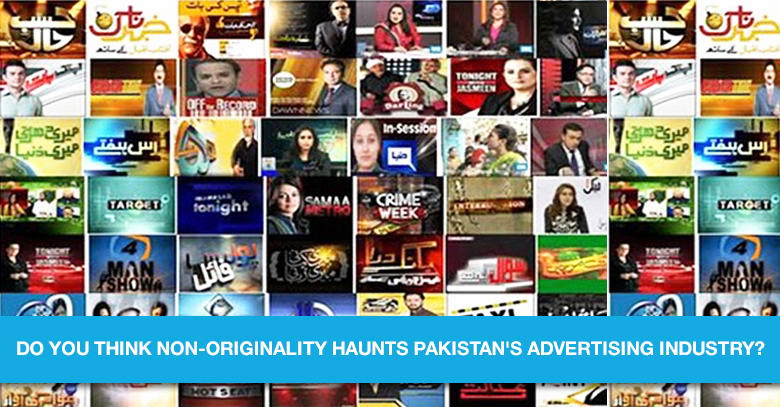 By Synergizer
There's a "shartia ailaj" type advertising formula for every possible proposition.
Children's brands won't settle for anything short of TVCs showing brats making fun of their teachers. Brands targeting teenagers will attempt choking us with wannabe dating & shaking, all crammed into a visual-collage-type TVC from the times of Polka ice cream to Zoom chewing gums to U-fone prepay.
Tea and packaged milk brands will produce an eternal array of loving family/happy couple's life portrayal through TVCs so similar in idea and content that they appear to be multiple twins.
Corporate TVCs inevitably have to be a potpourri of predictable symbolic visuals based on lofty corporate claims and showy values. Remember the song based corporate TVCs of U-fone, Paktel and Foreefone, you could easily interchange the brand names and no one could tell you the original brand until Paktel ran its piece so much, that it became a memorable nightmare.
So life would have wen on until one fine evening you turn on your TV to find a woman doing things like taking the blinds down, closing the door, taking off the wrist watch, throwing away her dupatta, opening the refrigerator, picking up and caressing a nutty ice cream bar, turning the lights down, dropping the sandals, sinking into bed and having an ice cream bar.
Next morning you'd wake up to see the same woman ensconced in a corner of the newspaper, lying on her stomach, nibbling that bar.
TVC execution is slick, timely with controlled camera maneuvers, desired lighting, sensible sound mixing and richness of 35mm format. Not bad at all.
But was all that required?
In Pakistan, brands usually follow the global brand strategy rather than adapting it to the domestic realities. Some brands have been successful in the test. Lux for instance has carried the equity of (showbiz) star beauty in local market while being sensitive to the domestic socio-cultural values.
Some brands are not that successful. Herbal Essences' global equity of 'hair wash experience' is presented through visuals of women experiencing hair wash as an extremely intimate feeling. This put the parent company in a tricky situation in Pakistan.
'Hair wash experience' anyway is not one of the top desirable brand attributes expected by consumers in Pakistan, they are interested in tangible hair benefits such as shine, thickness, protection from split ends and so on.
However, the whole thing became a mishmash of claims presented to the consumers with essential focus on 'hair wash experience' accompanied by generic hair benefit claim and lukewarm attention on herbal heritage.
Shock Value
In Pakistan anything that's antithetical to domestic moral values is presented as modern, bold and fresh.
In the same spirit the brand management and advertising teams would probably be considering the camera's capture of model's neckline in the TVC as a little stoop of the camera but a giant leap for modern advertising in the country.
This kind of advertising may arouse applause from local bourgeois and momentary liking by some young men but it surely is going to leave an unpleasant taste in the minds of most of the people.
The Phenomenon of Aspirational Advertising
It is one of the most mishandled advertising concepts in Pakistan. Lavish living, women in western dresses and young models are some of the readily available ingredients to cook up aspirational advertising.
But for whom could a woman 'having fun' with an ice cream bar or a mango be aspirational?
The Target
It's generally believed by brand management and advertising teams that what's admired/relevant to A+ consumer class would automatically be aspirational for A & B. This is not always true.
There are some values that people would expect their brands to pay respect to.
People talk about aspirational advertising as good advertising but they forget that advertising to which people can relate to is also good and if thought up by creative minds it could be aspirational too.
Now who would relate to a woman getting suggestive with a nutty bar or a 'mango juice'?
Is this global advertising spreading roots in Pakistan?
But then why we insist on presenting Western advertising model as the global advertising model? Global advertising includes Saudi advertising as well, doesn't it?
The true quality of global advertising in the West and even in India lies in innovative and fresh creative ideas which create advertising that is smart and witty and shocks the consumer to attract spontaneous liking, not displeasure.
Do you remember Coca Cola's print ad in which a person is sleeping under the shadow of Coca Cola crates with the caption "Thanda matlab Coca Cola" or Shahrukh Khan's Pepsi ad in which he is sitting among spectators in a cricket match; as everybody raises placards reading 6, he holds his placard upside down to read 9 with the slogan "Dil maangay aur".
This is creative advertising that requires keen observation of the life scattered all around us and genuine creative thinking. This is tough work, tougher than memorizing graphic details displayed at a porn website.
Why the downfall?
"People here don't understand creative ideas", this is the excuse that brand management and advertising agencies employ as a reason for shallow advertising where people are either busy seducing or dancing.
People would accept good creative advertising if it's clear and strong in concept and strategically relevant.
Be Prepared for More
Those of us who feel shocked at advertising using people as sex objects or dancing around for no rhyme or reason; should be prepared for more, because in a country where women die in need of medical facilities, are paraded on roads to prove women's progress in the country, people among us will continue to come out with such work in the name of modernism; so don't be surprised, that's how our desi minds work.
"Never print an ad that you cannot keep in your own living room," David Ogilvy once said but probably no one paid attention.