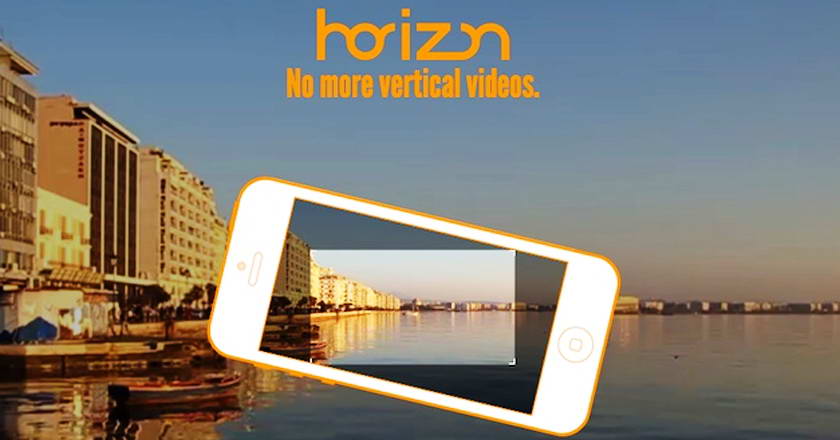 Everyone one of us has cursed or have been cursed by others on a matter that ruins almost everything memorable about a video – the dreaded vertical angle.
Whether it's a wedding, birthday celebration or an important event, someone always manages to kill the fun by holding the phone normally instead of the landscape/horizontal mode.
It's all good as long as you view it on your phone but when you want to upload it, watch it on a TV or a computer then BAM! appears two gloomy black bars on each side reducing the video screen to half.
You might also like: 7 Must-Have Love Apps for Couples on Valentine's Day
For such crisis, having Horizon Camera App can be handy. The app uses the built in gyroscope and accelerometer of your device to auto-level the videos, which gives you a horizontal focus.
Available on Android and iOS, Horizon Camera lets you capture horizontal lets you record horizontal videos no matter how you hold your device. Be it upright, sideways or on rotation, the captured video stays in a horizontal frames.
Horizon will maintain its aspect ratio while maintaining its frame even if you rotate your device to 40 or 45-degree angle. Currently supported aspects include 16:9 wide, 1:1 and 4:3 standard). The quality is affected a bit and the overall original frame size is reduced but it does a nice job.
Read more: 10 apps that will help you fight insomnia
Essentially a purchase app, Horizon offers a free version that gives 15 seconds of recording with the embedded horizon logo in the video. You can purchase the other features along with future features for only 105rs. A reasonable investment!
How It Works:
Horizon has 3 straightening modes. The Flex mode provides you with a tilt to zoom enabled flexible sized frame. This makes the video look a bit smoother by adjusting the zooming scale when the device is tilted. Rotate mode provides a fixed frame-size but has no zoom feature. The Locked mode will work like the normal camera app with no correction.
Three video qualities are given to choose from ranging from VGA (640×480), HD (1280×720) to Full HD (1920×1080). Both front and back camera can be used to recording videos.
PROS:
• Good video quality for a modifying app
• 3 Shooting modes
• 3 Video quality settings
• Angle straightening of upto 45 degrees
CONS:
• Frame cut forces the video maker to stand far from subject depending on the shot being taken
• In-app purchase unlocks the full potential video length
• Slow motion rate experienced sometimes in video
The app has so far garnered more than 500,000 installs and has received raving reviews from all leading tech blogs. Let us know about your experience of using Horizon Camera App.