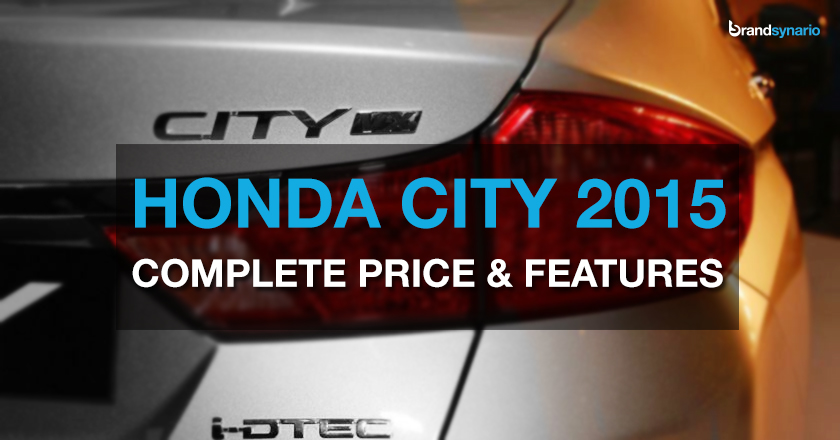 Honda is back with the much awaited new version of Honda City. Recently announced the new City 2015 is nothing as compared to its previous versions but much better.
With more of a sporty look, larger width, height and length the car's new look is simply a killer, not to mention the bull's eye headlights that adds exceptionally well to the overall stylish looks of the car.
The new features that make this car an outstanding one includes i-VTEC Engine technology that comprises of 16 valves and 4 cylinders, making the engine much more powerful and advanced than its predecessor using VTEC technology.
The Latest model of Honda's City series was previously introduced back in 2011, after which this is the very first introduction of this auto brand after 2 whole years.
Some of the key features of this latest City model includes, an intelligent aerodynamic design, five inch built in LCD system, in-built hands-free telephony technology, Steering embedded auto controls, eight-speaker surround sound system with Bluetooth, USB and MP3 connectivity, four power outlets for front and rear powered seats, cruise control and sunroof, front and rear touch and automated air conditioning system.
With all these exclusive features and many more, Honda City is yet not that pricey, the car has been priced between 1.5 – 1.8 million PKR making it an eye-catching deal for the Honda lovers. A detailed version of prices is given below:
Honda City Manual Transmission: 1,548,000
City Aspire Manual Transmission (1.5L): 1,688,000
Honda City Prosmatec Transmission: 1,689,000
City Aspire Prosmatec Transmission (1.5L): 1,830,000
The expected dates for this spectacular machine's availability are from February 2015.