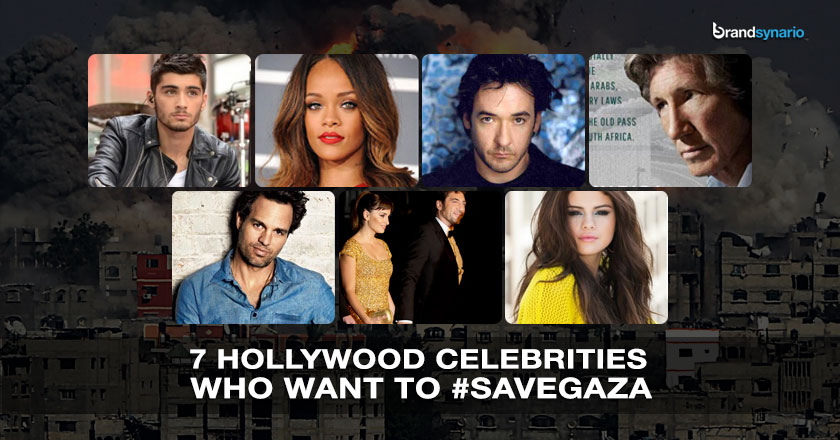 By Zoya Anwer
The current atrocities in Palestine has led to the loss of many innocent lives of children, women and men. While the global powers are busy pointing fingers at each other, playing the inhumane blame game of who threw the first stone, the number of people dying and losing their families and homes is multiplying.
However, not everyone is quite, common people around the world are voicing out against the injustice. The celebrities, too are not sitting quietly as well, Rihanna's tweet #FreePalestine generated 8,000 RTs within 8 minutes though it was removed later. 
Unlike her, there are many stars who are boldly voicing their support for Gaza.
Here are some celebrities that are supporting Palestinians in the time of need: 
1. Zayn Malik
Zayn Malik, the 21 year old singer from the British boy band, One Direction tweeted #FreePalestine on his account and as reported by newyork.cbslocal , he got huge criticism with 13 million out of his 13.1 m followers threatening to kill him as well.
Malik is of Pakistani-Muslim descent and his tweet reflected solely his own views.
2. Selena Gomez
The famous singer and actor, Selena Gomez didn't just tweet anything rather she posted a picture "It's about humanity. Pray for Gaza"  and a long and heartening caption about the loss of innocent lives in Gaza.
She also started receiving rebuttals but she posted another image shortly telling her fans that she only prays for peace and harmony irrespective of the regions.
3. Penelope Cruz and Bardem Javier
The celebrity couple used the power of pen and along with other Spanish actors, wrote an open letter condemning the violence and even terming it "genocide". The couple has sparked anger all over Hollywood as the executives are now "furious" and some are wondering if they want to work with them again. 
Their stance even in such severe circumstances is very admirable.
4. Mark Ruffalo
The "Hulk" from Marvel Avengers, Mark Ruffalo didn't stay quiet at the injustice in Gaza rather he tweeted about the senseless war that is causing violence in Gaza.
The actor also clarified that he also supports those who have lost their lives in Israel but bombing hospitals and schools was just unbelievable. He even responded to one tweet, "So then why are you so happy to use bombs and dehumanisation to solve a deeper problem. Very Hollywood of you."  
5. Roger Waters
The singer from the famous English Rock band, Pink Floyd is a longtime supporter of the Palestinian cause and called upon all the celebrities to stand together against the Israeli brutalities. 
6. Jon Stewart
Known for making anyone and everyone laugh with his satire and wit, Jon Stewart openly showed his support for the people in Gaza but also clarifies that supporting Gaza didn't mean supporting Hamas. He said, "Just merely mentioning Israel or questioning in any way the effectiveness or humanity of Israel's policies is not the same thing as being pro-Hamas". 
7. John Cusack
The American actor unlike many other American actors spoke up openly against the Israeli bombing and said that "bombing civilians is not self defense".