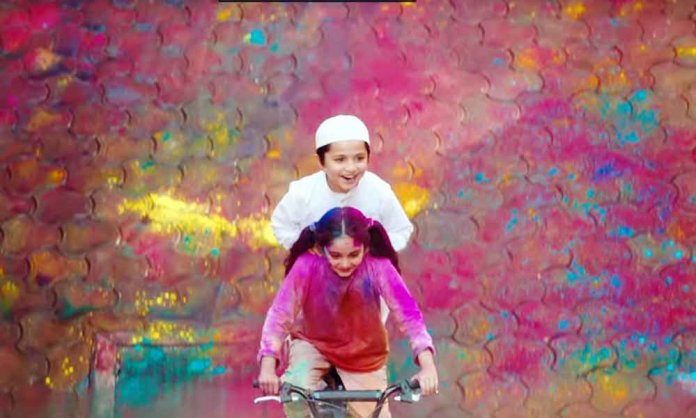 Surf Excel's latest campaign by Hindustan Unilever, '#RangLayeSang'' celebrates 'Holi', with a bold take on communal peace that has been welcomed by many.
An influential brand has the power to unite people from all races and religions if the content and communication is effective.
The ad depicts a moving story of a young girl who helps her Muslim neighbour offer his prayer in the mosque whilst she gets splashed by colours from the neighbourhood kids in a bid to save him.
The ad ends on an empowering note, stating:
Apnay Pan se Auroon Ko Rangnay Mein Dhaag Lag Jaye Tou Dhaag Achay Hotay Hain
The advertisement is bound to bring a smile on your face!
However, the ad has the Indian Twitterverse divided, creating a major controversy across the border.
Some expressed their displeasure claiming that the ad was disrespectful towards the festival of Holi.
#bycottSurfExcel #SurfExcel
Lets boycott Surf Ex cel for insulting Hindus and our important festival of Holi. This is absurd. When we have 100% of their users are Hindus.

— Saam Daam Dand Bhed (@AshuPatel4) March 9, 2019
Some have stated that it hurts religious sentiments of Hindus in India.
One of the worst Ad ever by Surf Excel. It should be rolled back and @HUL_News should apologize for hurting sentiment of our religion.#BoycottSurfExcel

— Krishna Kumar (@raj_imkrishna) March 11, 2019
Here is the picture, you need to check before buying anything… #BoycottSurfExcel @HUL_News Leave Hindus alone. Make ads on other religions because WE are not interested in your products. pic.twitter.com/3TxWoFux4e

— niketsharma (@niketsharmaa) March 9, 2019
BoycottSurfExcel was extensively used by Twitter users to showcase their anger.
#BoycottSurfExcel its not about the content of the ad, its about the feeling that is created, its abt an underlying message saying that we dont know how to maintain communal harmony, its about using communal subject. its a highly irritating ad. https://t.co/XkHvjhfBr6

— bhakti (@bhakti_tweeting) March 11, 2019
However, some sane voices have lauded Surf Excel for producing a powerful marketing masterpiece.
#BoycottSurfExcel is the stupidest hashtag everrr!!The one who came up with this idea is a big daag and aise daag achche bilkul bhi nahi!

— Pragati Mandloi (@PragatiMandloi1) March 11, 2019
I am buying 2 extra 2 kilo pack of #SurfExcel for reminding us that we are nice people. And live naturally in relative harmony. And, kids know no barriers, until they are taught.
It will last me 6 months. but it is worth it to defeat haters.

— Harini Calamur (@calamur) March 10, 2019
Lovely ad #SurfExcel . This is the real India. Mutual respect for each other's faith should be the bedrock of our democracy. https://t.co/fEZyTPGycv

— Sumanth Raman (@sumanthraman) March 10, 2019
The advert is also making waves in Pakistan, winning hearts for its vision of harmony.
2 nations indirectly marketing #Surf_Excel #Surf_Excel_India

— Azeem Khan (@azeemahmedkhan) March 10, 2019
what an ad 🙂 #burnol #india #SurfExcel https://t.co/lIJ4YmgnZV

— Mohsin Khan (@gfxmosh) March 9, 2019
True #love.. awesome #add
#SurfExcel https://t.co/CBdmimyM12

— Moiz (@moiz_aj) March 10, 2019
Daagh achay hotay hain. #Surf_Excel #colours #childhood #festivals https://t.co/dk9kz44lgQ

— Qamar Abbasi (@YoQB) March 11, 2019
Sir, there's already a campaign against #SurfExcel right now in India. Unfortunately. https://t.co/1f8Af4yeOs

— Azeem Ul Haq (@Djenngo) March 10, 2019
"Ae Allah Hamary Dilon Mein Mohabbat Ka Aesa Gulaab Peda Kar,

Jis Ki Khushbu Se Nafraton Ka Wajood Hi Mit jaey.!!!
"AAMEEN"#Rana #SurfExcel

— Mehtab Rana (@2K18sMs) March 11, 2019
The reaction from certain segments of the Indian society may be negative towards the concept used in the campaign, however, the advert is also receiving love from both Indians and Pakistanis.
This is not the first time, brands have made efforts to bring together people of the subcontinent, urging them to forget all national and religious differences.
In 2013, Google India's 'Reunion' ad had used a similar message showcasing how two childhood friends, separated due to the Indo-Pak Partition, reunited via the tech giant.
What do you think of Unilever Hindustan's Surf Excel ad?
Let us know in the comments below.