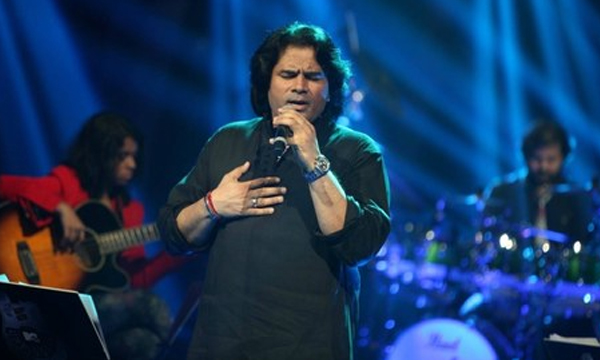 Veteran Pakistani singer Shafqat Amanat Ali has faced backlash for messing up the national anthem at the Eden Gardens Cricket Stadium in Kolkata on March 19, 2016. The singer was given the honor to sing national anthem live in front of thousands of people ahead of the historic clash between Pakistan and India.
Ali, who is also known as an 'Ustad', not only lacked zeal and fervor but also did two lyrical errors in the last stanza of the national anthem. He sang "Parcham o sitara o hilal" instead of "Parcham e sitara o hilal" and mingled the third last line of the anthem with the third line, "Tu nishane azam e aali shan".
Watch the full video below:
https://www.facebook.com/icc/videos/1201196043232823/
Ofcourse, memes of the singer immediately hit the Internet:
[fb_embed_post href="https://www.facebook.com/mointhedesigner/photos/a.506522952714813.113682.505421972824911/1157061924327576/?type=3&theater/" width="550″/]
[fb_embed_post href="https://www.facebook.com/photo.php?fbid=1525759184398283&set=a.1377139865926883.1073741829.100008926470719&type=3&theater/" width="550″/]
[fb_embed_post href="https://www.facebook.com/ShahzaibHussainART/photos/a.191781520909922.48205.114344645320277/973203632767703/?type=3&theater/" width="550″/]
Soon after the defeat of the Pakistani cricket team, fans from all over the world not only expressed their disappointment and resentment over the boys in green but also trolled Shafqat Amanat Ali for getting the national anthem wrong on such a prestigious international forum.
Angry Tweets and Facebook statuses flooded through social media leaving no option for the singer except to render an apology.
Shafqat Amanat Ali is a friend & 1 of the best voices around. But he was a real disappointment with the national anthem @ the #PAKvsIND game

— Ali Haider Zaidi (@AliHZaidiPTI) March 20, 2016
Even I can say better national anthem without any preparation shame on you Shafqat Amanat Ali and on your ugly voice you hung our head down.

— Marib khan (@khanmarib_) March 20, 2016
By the way Shafqat Amanat Ali should be deported if he steps in the country again, made a mockery of the national anthem.

— Umer (@Umerrr_) March 20, 2016
Citing public's displeasure and criticism, the singer turned to social media to issue an apology. He, although did not accept his mistake, but apologized for not being able to win praises. The singer quoted his mistake as "audio and technical glitches" and said they were misinterpreted as lyrical errors.
Here is my apology… pic.twitter.com/09aGpMqhRs

— Shafqat Amanat Ali (@ShafqatAmanatA) March 20, 2016
"I admit that there were a few audio and technical glitches that may have sounded like lyrical errors and I will surely apologize for not being able to win your praises this time, but assure you I had by no means "forgotten" our beloved 'Qaumi Tarana," he tweeted. The singer also said he was deeply hurt by the little faith that fellow countrymen has showed in him.
His apology was met with a mixed response; while some appreciated him others criticized the singer for giving false excuses.
@ShafqatAmanatA But this is an excuse, and a lousy one at that – not an apology. Saying you were half asleep would be more believable.

— Nida Khan (@nidak_) March 20, 2016
@KKhanMarwat @RJSadiaSattar @ShafqatAmanatA What about clearly uttering "Tarjuman".An offbeat & out of "sur" #Ustaad with no emotions.

— Khalil A. Hassan (@Khalil_a_hassan) March 20, 2016