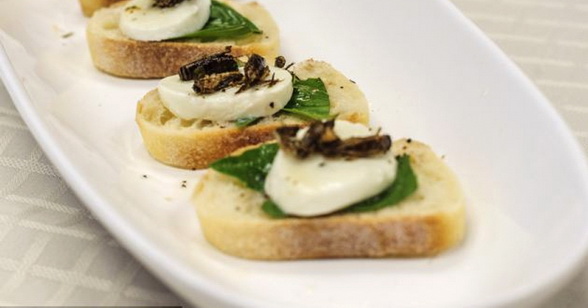 Imagine a world with no more Mutton Biryani, Pepperoni Pizza or Chicken Burger, instead our restaurants will be offering us stuff like Cricket Karhai or Cockroach Kebab in their menus.  
With around 7 billion of hungry humans to feed on the planet, the agricultural resources are bound to undergo strain. But better brace yourselves, for the" future of food" has already arrived – the tiny, slimy, creep crawly "Insects" are soon to become our likely snacks.
The idea of "Insect Farming to combat food shortage" has taken the world by storm.  Those days are not far when "bug protein" will be traded in the stock market like any other food item.
North America's "Next Millennium Farms" is one- of- its- kind insect farm that breeds 30 million crickets and 20 million mealworms to be used in food like chocolate brownies, cookies and bruschettas.
Owned by three brothers, Ryan, Jarrod and Darren Goldins, the company is shipping 8000 lbs worth of crickets a moth to mostly U.S. companies for use in energy bars, baked goods and snacks.
Various US Based food companies are using their insect floor for their protein-rich Cacao Nut, Peanut Butter and Jelly bars. These SME's have been selling thousands of bars online and are so pleased with their orders that some of them are keen to keen to start a restaurant with an insect-only menu. 
The Goldins have ambitious plans to increase their operations. By the end of 2015, they expect to move into a one-million square foot facility and increase staff from 10 to 80.
Darren and Ryan, both former Environmental Studies students, had hands-on experience rearing insects through their reptile farming and feed business. They began by raising ball pythons, 8 foot long snakes, to sell on as pets. Then they realized that raising reptile food – insects, rats and mice – was far more profitable.
The pests are hatched, gassed, roasted and grinded to produce "protein rich flour" to be used in all sorts of energy bars, biscuits and chips. 
According to a United Nations report released in May 2013, "Insect farming is one of the many ways to address food and feed security, citing the high protein, vitamin and mineral content of bugs and the fact that insects reproduce quickly and have "a low environmental footprint." 
While cattle require 12 times more food, 13 times more water and a large part of land to raise them, they produce an equal amount of edible protein as that of crickets- which apparently require less money and resources to breed.
However, the practice of eating insects is still not common in the Western World. It is more popular in Asia, Africa and Latin America, with around 2 billion people from these regions snacking on insects as they are considered to be "low-fat and rich in iron and protein". 
Do you think that the time is near when entrepreneurs and farmers all over the world, unavailable to meet the soaring want of meat for human consumption, will ultimately shift to breed all sorts of insects?