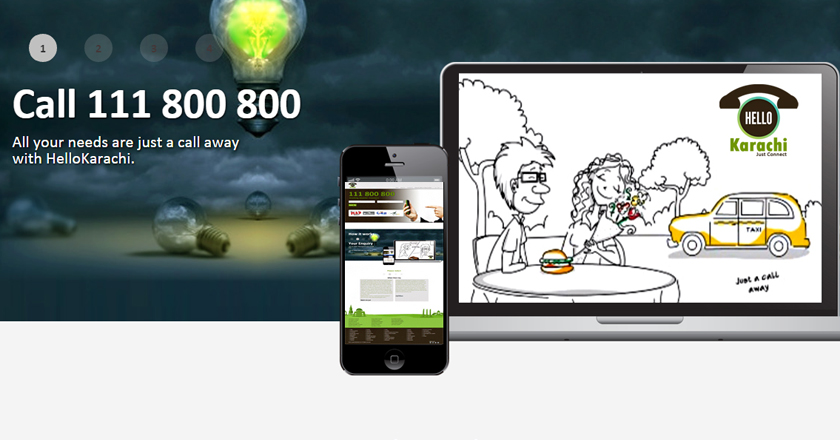 Utterly lost in the mind-boggling cuts and lanes of Karachi, how many times have you wished for a genie to show you the way around?
Let's face it, even with 3G/4G on our disposal – internet isn't the most reliable friend to have in Pakistan.
We may not get a genie in a bottle to grant our wishes but we definitely have HELLO Karachi, a phone call service that will assist you with the right contact details for every nook and corner of the metropolitan city.
HELLO Karachi!, a telephone helpline, provides easily accessible contact information for every desired location in Karachi – Anytime, Anywhere by dialing 021  111 800 800.
With a database of more than 450,000 registered small and large businesses, HELLO Karachi offers free contact information (Phone number, Address, Business Timings, Location Guidance) via phone call and SMS.
The huge source of data pool allows Karachiites to call at any time and from anywhere for real-time information of any product and service available in the city. The telephone contact bank service also offers some information online.
From nearest ATM locations to closest mechanic shops, from newest restaurants to famous medical clinics – HELLO Karachi is a one stop solution for all contact related queries.
A product of Polani Group, a renowned name in the travel sector, HELLO Karachi operates 24/7, 365 days a year and within a few months of its launch, the service has garnered popularity among local businesses in Karachi.
The telephone search service isn't just helpful for common people searching for contacts but it also offer small and local businesses exposure to promote themselves free of charge.
The concept of archiving business contact information isn't new in Pakistan but its usage is certainly not prevalent amongst the masses. The unstable law and order situations of the city combined with a rather unplanned infrastructure makes it a dilemma for a common man to explore new locations. Online directories are also not common amongst the masses and let's face it, Google maps is difficult for us desi-s who usually like to remember locations not by exact address but by memorizing strange landmarks; hence for a normal born and raised Karachiite, Hello Karachi is nothing short of a genie in disguise!