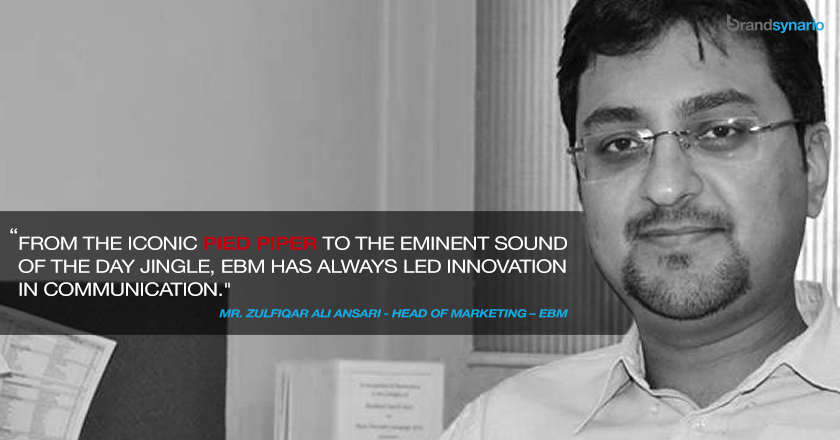 Zulfiqar A Ansari is Head of Marketing at English Biscuit Manufacturers (Pvt.) Limited. Zulfiqar has led a new strategic direction for his portfolio and has spearheaded the new platform and direction on EBM's most iconic brand Sooper, in addition to overseeing media and activation. He has over 10 years of expertise in brand development and brand building with varied experience in a number of categories.
Brandsynario got an exclusive opportunity to ask Mr. Zulfiqar his point of view about EBM. Read on to know some interesting insights about EBM and the biscuit industry of Pakistan.
Q1: Please tell us about your experience at EBM so far? 
I have been associated with EBM for about two years and since then I have been involved in strategic planning and brand development. Previously, I have worked in leading MNCs and local FMCG and food companies. EBM has set its mark in leading the industry with innovative products and practices. It is this corporate vision and the progressive culture embedded in the company that not only has helped the company grow exponentially but also led to our individual professional growth. It has its own unique culture as a result of the amalgamation of various backgrounds that people come from.
Q2: How would you define EBM's marketing philosophy? Has it evolved over the years? 
Since its inception more than 45 years ago, the EBM brand name has been synonymous with leadership and innovation. The marketing philosophy of this organization is a proof of this. From the iconic Pied Piper to the eminent Sound of the Day jingle, EBM has always led innovation in communication. Thus, EBM is not only a market leader in the biscuit category but we have led the market with our marketing ethos as well.
Q3: Please shed some light on overall industry dynamics. Who do you think is your strongest competitor in the market?
The biscuit industry of Pakistan has achieved around 1.6% growth over last year. Given the enormous sales base, this growth speaks volumes of the industry potential. The largest segment, plain-sweet has experienced a huge growth spurt with a number of smaller regional players entering this segment. However, EBM still enjoys the lion's share of this segment with Pakistan's all-time favorite biscuit, Peek Freans Sooper. Currently, the industry is home to a number of great players, and each is continuously striving hard to out-do brands present in the market. Being a leader in the industry EBM is cognizant of all other players, our position is to defend and grow our shares hence we take all competition seriously and see it as a symbol of untapped potential.
Q4: Do you think that the biscuit industry has a potential to grow in the coming times when most of the people are focusing on health over taste?
While it is true that consumers are becoming increasingly health conscious, trends show that biscuits are considered to be a healthy meal replacement. Research shows that many people especially those working outside their homes prefer to substitute biscuits as meal replacements more than any other snack as it provides all basic nutritional values especially when compared to fried snacks. Furthermore, as a company that aims to provide wholesome nourishment to its consumers, EBM has always produced biscuits that are not only rich in taste but are healthy snacks between meals.
Q5: EBM boasts a wide range of cookies and cream biscuits, please tell us how are the sub-brands divided? 
We have divided our portfolio into seven sub-segments these include; plain sweet, cream, energy, crackers, value-added, zeera and premium. Each brand is placed in its respective category based on the product type. Such as Sooper and Marie is part of the plain-sweet segment, RIO & sandwiches in the cream;  gluco and whole wheat slices in the energy, butterpuff and saltish in crackers; peanut pik, peanut pista and party in the value added range. Whereas click is in the zeera segment and Farmhouse cookies is placed in the premium segment.
Q6: Please elaborate a bit on your target market in general. Which SEC, age group and gender prefers biscuits more than any other snack?
All consumers enjoy biscuits as a favorite snack irrespective of their age, gender, SEC strata etc. however their preferences on brands differ. For example, an individual who is young would have a strong preference for very sweet and creamy biscuits such as RIO, whereas an individual in their mid-40's would prefer a biscuit that is more savory such as Saltish. Based on the preferences of each group, EBM has a wide portfolio of 14 brands each designed to cater the unique taste palettes of individuals from different groups. Each brand thus has a unique personality and image, which the TG can easily associate with. 
Q7: Kids are considered to be the primary market for cookies and biscuits. Do you think it is a misconception or a genuine fact? 
This is a slight misconception since research proves that a large majority of adults enjoy consuming biscuits. Biscuits are a perfect complement to a hot cup of tea which again is consumed mainly by adults. In fact a majority of biscuit brands are targeted to adults as "the perfect tea companion". However as said earlier, some brands such as RIO primarily target kids owing to the taste preference and Pakistan's young demographics dictate that children are an extremely important segment for current and future sales.
Q8:  EBM is known for its international quality standards, considering that, are there any expansion plans in other countries? 
EBM has a strong export network whereby most of our brands are exported across the globe. We export to numerous countries including USA, Canada, Saudi Arabia, U.A.E, UK to name a few. This is a reinforcement of our strict quality standards that allow us to export to such heavily regulated markets.
Q9: Recently EBM's sub-brand, Sooper broke sales record and became the best-selling biscuit of Pakistan, what are your views on this phenomenal success? 
This is a great milestone for the company and the team. While the brand has been the best-selling biscuit since 2007, we achieved phenomenal sales volume this year. This record is a fruit of all the investment and effort made into the brand and it only motivates us to work harder and achieve even better results. Sooper launched a new variant Sooper Elaichi in January 2014 and the response we have received from the market has been phenomenal. We hope to continue with a similar spirit in the future and give the market extra-ordinary products like Sooper. I think Sooper embodies all that is great about EBM, the superior RnD to make the perfect recipe, constancy in quality delivery and innovative marketing keeping it ahead of the competition.
Q10:  Bringing Indian celebrity endorsements is an ongoing trend in Pakistan's advertising scenario, will EBM follow the lead or bring something new to the table? 
Being a leader in the biscuit industry it is EBM's responsibility to introduce new concepts to the market which is something we have done in the past. However if a brand requires Indian celebrity endorsement it will be done but solely since it is a brand need and not because everyone is doing it.  I think we have effectively utilized local talent without feeling the need to rely on foreign stars. 
Q11: Nowadays, many companies are merging their CSR projects with advertising, do you have similar plans? 
EBM has one of the strongest CSR programs in country and we traditionally have given back to the community in the spheres of health, education, development and sports. We are already doing CSR projects not only through our corporate entity but also through our brands, where Gluco recently sponsored the Junior Leaders Conference organized by SOL to develop leadership potential and Obhartay Sitaray, a yearly TCF singing event where thousands of children from private and TCF schools alike came together to participate. 
Q12: Any new products or marketing campaigns we should be looking forward to? 
Constant innovation and improvement is one the key pillars and values at EBM, we are constantly striving hard to out-do our own bench-mark and provide consumers with brands that are better than before. In keeping with this we have just launched a new product in the market Butter Puff – Veggie Cracker and are receiving an overwhelmingly positive response on this. We will continue to surprise and delight our consumers as we have always done!